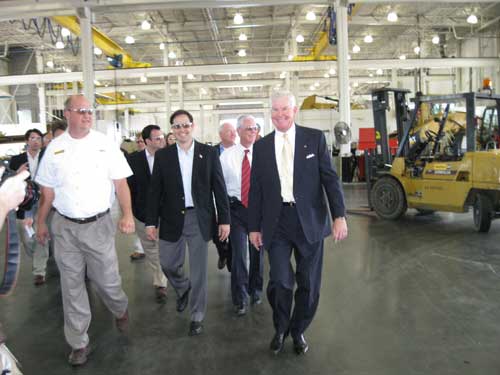 The federal court lawsuit in the race discrimination case of U.S. Equal Employment Opportunity Commission v. RING POWER CORPORATION is now set for trial in September 2022 before U.S. District Judge Marcia Morales Howard. That is RING POWER's founder RANDALL RINGHAVER with U.S. Senator MARCO ANTONIO RUBIO.
The September 24, 2019 complaint charges the corporation of RANDALL RINGHAVER with a racially hostile working enviornment, where the N----R word was used against a Black employee.
Efforts to mediate led to an "impasse."
The Student Center at Flagler College is named for the RINGHAVER family.
When
president

ial candidate WILLARD MITT ROMNEY made his prejudiced 2012 pejoratives about "the 47%," recorded on video, RANDALL RINGHAVER was in the room among the other major donors to ROMNEY's campaign.
Docket sheet:
U.S. District Court
Middle District of Florida (Jacksonville)
CIVIL DOCKET FOR CASE #: 3:19-cv-01098-MMH-JBT

United States Equal Employment Opportunity Commission v. Ring Power Corporation
Assigned to: Judge Marcia Morales Howard
Referred to: Magistrate Judge Joel B. Toomey
Cause: 28:451 Employment Discrimination

Date Filed: 09/24/2019
Jury Demand: Plaintiff
Nature of Suit: 442 Civil Rights: Jobs
Jurisdiction: U.S. Government Plaintiff
Plaintiff
United States Equal Employment Opportunity Commission
represented by
Beatriz Biscardi Andre
US Equal Employment Opportunity Commission-Miami
100 S.E. 2nd St, Ste 1500
Miami, FL 33131
786-648-5806
Email: beatriz.andre@eeoc.gov
ATTORNEY TO BE NOTICED

Brandi Lorraine Meredith
Equal Employment Opportunity Commission
501 E Polk St Ste 1000
Tampa, FL 33602-3924
813-202-7930
Email: Brandi.Meredith@eeoc.gov
ATTORNEY TO BE NOTICED

Lucas Michelen
U.S. Equal Employment Opportunity Commission
Tampa Field Office
501 E. Polk Street
Suite 1000
Tampa, FL 33602
813-710-9378
Email: lucas.michelen@EEOC.gov
ATTORNEY TO BE NOTICED

Oshia Banks
Equal Employment Opportunity Commission
Miami District Office
The Miami Tower
100 SE 2nd St., Suite 1500
Miami, FL 33131
Email: Oshia.Banks@eeoc.gov
ATTORNEY TO BE NOTICED

V.

Defendant
Ring Power Corporation
represented by
Kevin E. Hyde
Foley & Lardner, LLP
1 Independent Dr - Ste 1300
PO Box 240
Jacksonville, FL 32202-0240
904/359-2000
Fax: 904/359-8700
Email: khyde@foley.com
LEAD ATTORNEY
ATTORNEY TO BE NOTICED

Leonard V. Feigel , Jr.
Foley & Lardner, LLP
1 Independent Dr - Ste 1300
PO Box 240
Jacksonville, FL 32202-0240
904.359.2000
Fax: 904.359.8700
Email: lfeigel@foley.com
LEAD ATTORNEY
ATTORNEY TO BE NOTICED
Date Filed
#
Docket Text
09/24/2019
1
COMPLAINT against Ring Power Corporation with Jury Demand filed by United States Equal Employment Opportunity Commission. (Attachments: # 1 Civil Cover Sheet Civil Cover Sheet)(Banks, Oshia) Modified on 9/25/2019 to edit text (RH). (Entered: 09/24/2019)
09/24/2019
2
PROPOSED Summons by United States Equal Employment Opportunity Commission re 1 Complaint (Attachments: # 1 Civil Cover Sheet)(Banks, Oshia) Modified on 9/25/2019 to edit text (RH). (Entered: 09/24/2019)
09/25/2019
3
NEW CASE ASSIGNED to Judge Marcia Morales Howard and Magistrate Judge Joel B. Toomey. New case number: 3:19-cv-1098-J-34JBT. (SJB) (Entered: 09/25/2019)
09/26/2019
4
SUMMONS issued as to Ring Power Corporation. (RH) (Entered: 09/26/2019)
09/26/2019
5
NOTICE of designation under Local Rule 3.05 - track 2. Signed by Deputy Clerk on 9/26/2019. (Attachments: # 1 Case Management Report Form, # 2 Consent Letter and Form)(JW) (Entered: 09/26/2019)
10/03/2019
6
CERTIFICATE of interested persons and corporate disclosure statement by United States Equal Employment Opportunity Commission. (Banks, Oshia) (Entered: 10/03/2019)
10/03/2019
7
NOTICE of pendency of related cases per Local Rule 1.04(d) by United States Equal Employment Opportunity Commission. Related case(s): no (Banks, Oshia) (Entered: 10/03/2019)
10/29/2019
8
Unopposed MOTION for Extension of Time to File Answer to Complaint by Ring Power Corporation. (Feigel, Leonard) Motions referred to Magistrate Judge Joel B. Toomey. (Entered: 10/29/2019)
10/30/2019
9
ENDORSED ORDER granting 8 Unopposed Motion for Extension of Time to Respond to Complaint. Defendant shall have up to and including November 12, 2019 to respond to the Complaint 1. Signed by Magistrate Judge Joel B. Toomey on 10/30/2019. (TSP) (Entered: 10/30/2019)
11/08/2019
10
ANSWER and affirmative defenses to 1 Complaint by Ring Power Corporation.(Feigel, Leonard) (Entered: 11/08/2019)
11/08/2019
11
CERTIFICATE of interested persons and corporate disclosure statement re 10 Answer to Complaint, 1 Complaint by Ring Power Corporation. (Feigel, Leonard) (Entered: 11/08/2019)
12/09/2019
12
CASE MANAGEMENT REPORT. (Banks, Oshia) (Entered: 12/09/2019)
12/10/2019
13

CASE MANAGEMENT AND SCHEDULING ORDER AND REFERRAL TO MEDIATION:

Conduct mediation hearing by 10/23/2020. Dispositive motions due by 11/9/2020. Final Pretrial Conference set for 3/22/2021 at 10:00 AM in Jacksonville Courtroom 10 B before Judge Marcia Morales Howard. Jury Trial set for trial term commencing on 4/5/2021 at 09:30 AM in Jacksonville Courtroom 10 B before Judge Marcia Morales Howard. Signed by Judge Marcia Morales Howard on 12/10/2019. (Attachments: # 1 Mediation Report Form, # 2 Court Docket)(JW) (Entered: 12/10/2019)
12/12/2019
14
CASE REFERRED to Mediation. (RH) (Entered: 12/12/2019)
08/03/2020
15
JOINT Motion for four month extension of remaining pretrial deadlines, including trial by United States Equal Employment Opportunity Commission. (Banks, Oshia) Motions referred to Magistrate Judge Joel B. Toomey. Modified on 8/4/2020 to edit text (RH). (Entered: 08/03/2020)
08/04/2020
16
ORDER granting 15 Joint Motion for Four Month Extension of Remaining Pretrial Deadlines Including Trial. Discovery due by 2/12/2021. Expert discovery due by 2/26/2021. Dispositive and Daubert Motions due by 8/2/2021. Final pretrial conference set for 8/23/2021, at 10:00 a.m. Jury trial set for trial term commencing on 9/7/2021, at 9:00 a.m. Signed by Judge Marcia Morales Howard on 8/4/2020. (JW) (Entered: 08/04/2020)
08/06/2020
Set/reset deadlines/hearings: Discovery due by 2/12/2021, Dispositive motions due by 8/2/2021, Jury Trial set for trial commencing on 9/7/2021 at 09:00 AM in Jacksonville Courtroom 10 B before Judge Marcia Morales Howard., Final Pretrial Conference set for 8/23/2021 at 10:00 AM in Jacksonville Courtroom 10 B before Judge Marcia Morales Howard (RH) (Entered: 08/06/2020)
10/30/2020
17
Joint MOTION for 90 Day Extension of Time to File Remaining Pretrial Deadlines, Including Trial by Ring Power Corporation. (Feigel, Leonard) Motions referred to Magistrate Judge Joel B. Toomey. (Modified on 11/2/2020, to edit text) (BGR). (Entered: 10/30/2020)
11/03/2020
18
ORDER granting 17 Joint Motion for 90-Day Extension of Remaining Pretrial Deadlines, Including Trial. Mediation deadline is 2/22/2021. Discovery due by 5/13/2021. Expert discovery due by 5/26/2021. Dispositive and Daubert Motions due by 6/14/2021. Final Pretrial Conference continued to 11/22/2021, at 10:00 a.m. Jury trial set for trial term commencing on 12/6/2021, at 9:00 a.m. See Order for additional deadlines. Signed by Judge Marcia Morales Howard on 11/3/2020. (JW) (Entered: 11/03/2020)
01/26/2021
19
Joint MOTION for Extension of Time to File to Extend Mediation Deadline to May 28, 2021 by United States Equal Employment Opportunity Commission. (Banks, Oshia) Motions referred to Magistrate Judge Joel B. Toomey. (Entered: 01/26/2021)
01/27/2021
20
ENDORSED ORDER granting 19 Joint Motion to Extend Mediation Deadline to May 28, 2021. The mediation deadline is extended to May 28, 2021. Signed by Magistrate Judge Joel B. Toomey on 1/27/2021. (RLS) (Entered: 01/27/2021)
02/05/2021
21
NOTICE OF SELECTION of Kirsten Doolittle as mediator by United States Equal Employment Opportunity Commission. (Banks, Oshia) (Entered: 02/05/2021)
02/18/2021
22
Unopposed Joint MOTION for Sixty-Day Extension of Time to Complete Discovery and Remaining Pretrial Deadlines, Including Trial by Ring Power Corporation. (Feigel, Leonard) Motions referred to Magistrate Judge Joel B. Toomey. (Modified on 2/19/2021, to edit text) (BGR). (Entered: 02/18/2021)
02/19/2021
23
ORDER granting 22 Unopposed Joint Motion for Sixty-Day Extension of Remaining Pretrial Deadlines, Including Trial. Discovery deadline is July 12, 2021. Mediation deadline is July 28, 2021. Dispositive and Daubert Motions due by August 12, 2021. Final pretrial conference continued to January 24, 2022, at 10:00 a.m. Jury trial set for trial term commencing on February 7, 2022, at 9:00 a.m. Signed by Judge Marcia Morales Howard on 2/19/2021. (JW) (Entered: 02/19/2021)
02/22/2021
Set/reset deadlines/hearings: Discovery due by 7/12/2021, Conduct mediation hearing by 7/28/2021, Dispositive motions due by 8/12/2021, Pretrial statement due by 1/18/2022, Jury Trial set for trial term commencing on 2/7/2022 at 09:00 AM in Jacksonville Courtroom 10 B before Judge Marcia Morales Howard., Final Pretrial Conference set for 1/24/2022 at 10:00 AM in Jacksonville Courtroom 10 B before Judge Marcia Morales Howard (RH) (Entered: 02/22/2021)
03/11/2021
24
NOTICE of Appearance by Brandi Lorraine Meredith on behalf of United States Equal Employment Opportunity Commission (Meredith, Brandi) (Entered: 03/11/2021)
06/22/2021
25
Joint MOTION for Extension of Time to File all remaining pretrial deadlines and trial by Ring Power Corporation. (Feigel, Leonard) Motions referred to Magistrate Judge Joel B. Toomey. (Entered: 06/22/2021)
06/23/2021
26
ORDER granting 25 Joint Motion for Three Month Extension of Remaining Pretrial Deadlines, Including Trial. Discovery due October 12, 2021. Dispositive and Daubert motions due November 12, 2021. Final pretrial conference continued to April 18, 2022, at 10:00 a.m. Jury trial set for trial term commencing on May 2, 2022, at 9:00 a.m. See Order for additional deadlines. Signed by Judge Marcia Morales Howard on 6/23/2021. (JW) (Entered: 06/23/2021)
08/24/2021
27
MEDIATION report Hearing held on 05/26/2021. Hearing outcome: Impasse.. (Doolittle, Kirsten) (Entered: 08/24/2021)
09/16/2021
28
NOTICE of Appearance by Lucas Michelen on behalf of United States Equal Employment Opportunity Commission (Michelen, Lucas) (Entered: 09/16/2021)
10/21/2021
29
Joint MOTION for Extension of Time to Complete Discovery to Extend the Deadlines for Expert Discovery and Dispositive and Daubert Motions by United States Equal Employment Opportunity Commission. (Michelen, Lucas) Motions referred to Magistrate Judge Joel B. Toomey. (Entered: 10/21/2021)
10/22/2021
30
ORDER granting 29 Joint Motion to Extend the Deadlines for Expert Discovery and Dispositive and Daubert Motions. The expert discovery deadline is 11/2/2021. Dispositive and Daubert Motions due 11/29/2021. Final pretrial conference continued to 5/23/2022, at 10:00 a.m. Jury trial set for trial term commencing on 6/6/2022, at 9:00 a.m. Signed by Judge Marcia Morales Howard on 10/22/2021. (JW) (Entered: 10/22/2021)
11/19/2021
31
JOINT MOTION for Expansion of Page Limits for Summary Judgment Motion by Ring Power Corporation. (Feigel, Leonard) (Modified on 11/22/2021, to edit text) (BGR). (Entered: 11/19/2021)
11/22/2021
32
ENDORSED ORDER granting 31 Joint Motion for Expansion of Page Limits for Summary Judgment Motion. The parties are permitted to file thirty-five (35) page summary judgment motions, thirty (30) page responses, and ten (10) page replies. Signed by Judge Marcia Morales Howard on 11/22/2021. (JW) (Entered: 11/22/2021)
11/29/2021
33
MOTION for Summary Judgment and Memorandum in Support by Ring Power Corporation. (Attachments: # 1 Exhibit Depo Excerpts S. Petersen, # 2 Exhibit Depo Excerpts J. Carlson, # 3 Exhibit Depo Excerpts C. Edema, # 4 Exhibit Depo Excerpts R. Howard, # 5 Exhibit Depo Excerpts C. Jones, # 6 Exhibit Depo Excerpts D. Leach, # 7 Exhibit Depo Excerpts C. Lee, # 8 Exhibit Depo Excerpts J. Soltis, # 9 Exhibit Depo Excerpts G. Wolf, # 10 Exhibit Declaration J. Bickerstaff, # 11 Exhibit Declaration of B. Clark, # 12 Exhibit Declaration of C. Clark, # 13 Exhibit Declaration of G. Foster, # 14 Exhibit Declaration of D. Gandy, # 15 Exhibit Declaration of T. Gillespie, # 16 Exhibit Declaration of J.Grant, # 17 Exhibit Declaration of R. Howard, # 18 Exhibit Declaration of C. Jones, # 19 Exhibit Declaration of M. McDonald, # 20 Exhibit Declaration of L. Muniz, # 21 Exhibit Declaration of S. Tedder, # 22 Exhibit Declaration of J. Whitehead, # 23 Exhibit EEOC Response Interrogatory 13, # 24 Exhibit EEOC Sup. Resp. Interr. 22)(Feigel, Leonard) (Entered: 11/29/2021)
11/29/2021
34
NOTICE by United States Equal Employment Opportunity Commission of Filing Exhibits in Support of EEOC's Motion for Partial Summary Judgment as to Defendant Ring Power's Faragher Affirmative Defenses (Attachments: # 1 Exhibit A - Cindy Jones' March 4, 2021, Deposition, # 2 Exhibit B - Charles Van Edema's June 25, 2021, Deposition, # 3 Exhibit C - Joshua Carlson's March 5, 2021, Deposition, # 4 Exhibit D - Richard Howard's May 11, 2021, Deposition, # 5 Exhibit E - Dan Leach's May 12, 2021, Deposition, # 6 Exhibit F - Shakeem Petersen's March 3, 2021, Deposition, # 7 Exhibit 11 - Ring Power's 2007-2014 Handbook, # 8 Exhibit 12 - Ring Power's 2014-2017 Handbook, # 9 Exhibit 13 - Ring Power's 2017 - Present Handbook, # 10 Exhibit 14 - Anna Fox's March 2014 Report of Carlson Race Discrimination and Manager Receipt Acknowledgment, # 11 Exhibit 16 - Anna Fox's February 2014 Report of Carlson Race Discrimination and Manager Receipt Acknowledgment, # 12 Exhibit 17 - Joshua Carlson Write-Up for Use of Profane Language, not Race Discrimination, # 13 Exhibit 24 - Richard Howard to Cindy Jones Email Regarding 2016 Reports of Carlson's Race Discrimination, # 14 Exhibit 25 - Shakeem Petersen's October 2017 Report of Carlson's Race Discrimination and Use of Racial Slurs, # 15 Exhibit 41 - Relevant Portions of Dan Leach's March/April 2015 Notes Regarding Carlson Race Discrimination)(Banks, Oshia) (Entered: 11/29/2021)
11/29/2021
35
MOTION to Strike TESTIMONY AND REPORT OF EXPERT NATHAN ADAMS, PHD by Ring Power Corporation. (Attachments: # 1 Exhibit Deposition of Nathan Adams, # 2 Exhibit Deposition of Jason Bickerstaff, # 3 Exhibit Deposition of Joshua Carlson, # 4 Exhibit Deposition of Richard Howard, # 5 Exhibit Deposition of Dan Leach, # 6 Exhibit Deposition of Christopher Lee, # 7 Exhibit Deposition of Shakeem Peterson, # 8 Exhibit Deposition of Gary Wolfe, # 9 Exhibit Declaration of Jason Bickerstaff, # 10 Exhibit Declaration of Cynthia Jones, # 11 Exhibit Declaration of Gary Wolfe, # 12 Exhibit Nathan Adams, PhD Expert Report, # 13 Exhibit Work Order Report, # 14 Exhibit Employee Annual Pay Data relied on by Dr. Adams)(Feigel, Leonard) Motions referred to Magistrate Judge Joel B. Toomey. (Entered: 11/29/2021)
11/29/2021
36
MOTION In Limine Daubert Motion to Exclude Opinions Proffered by Dr. Edward Wolpert by United States Equal Employment Opportunity Commission. (Attachments: # 1 Exhibit Ex. 1 - Dr. Wolpert Report, # 2 Exhibit Ex. 2 - Dr. Adams Report, # 3 Exhibit Ex. 3 - Ring Power Employee Roster, # 4 Exhibit Ex. 4 - Dep. of Rick Howard, # 5 Exhibit Ex. 5 - Dep. of Cindy Jones, # 6 Exhibit Ex. 6 - Dep. of Joshua Carlson, # 7 Exhibit Ex. 7 - Work Order Spreadsheet, # 8 Exhibit Ex. 8 - Dep. of Dr. Adams, # 9 Exhibit Ex. 9 - Ring Power Job Code Spreadsheet, # 10 Exhibit Ex. 10 - 5/17/21 EEOC Email to Def., # 11 Exhibit Ex. 11- Dep. of Dr. Wolpert, # 12 Exhibit Ex. 12 - Dr. Adams Decl.)(Michelen, Lucas) (Entered: 11/29/2021)
11/29/2021
37
MOTION for Partial Summary Judgment as to Defendant Ring Power's Faragher Affirmative Defense by United States Equal Employment Opportunity Commission. (Banks, Oshia) (Entered: 11/29/2021)
11/30/2021
38
NOTICE by Ring Power Corporation re 33 MOTION for Summary Judgment and Memorandum in Support Exhibit List (Attachments: # 1 Appendix Exhibit List to Ring Powers MSJ)(Feigel, Leonard) (Entered: 11/30/2021)
12/02/2021
39
SUMMARY Judgment Notice and Courtesy Copies re 33 MOTION for Summary Judgment, 37 Motion for Summary Judgment. Signed by Deputy Clerk on 12/2/2021. (RH) (Entered: 12/02/2021)
12/20/2021
40
RESPONSE in Opposition re 35 MOTION to Strike TESTIMONY AND REPORT OF EXPERT NATHAN ADAMS, PHD filed by United States Equal Employment Opportunity Commission. (Attachments: # 1 Exhibit Ex. A - Dr. Adams Report, # 2 Exhibit Ex. B -Dr. Adams Dep., # 3 Exhibit Ex. C - Dr. Wolpert Dep., # 4 Exhibit Ex. D - Howard Dep., # 5 Exhibit Ex. E - Ring Power Job Descriptions, # 6 Exhibit Ex. F - Carlson Dep., # 7 Exhibit Ex. G - Petersen Dep., # 8 Exhibit Ex. H - Van Edema Dep., # 9 Exhibit Ex. I - Petersen Application, # 10 Exhibit Ex. J - EEOC Supp. ROG Resp., # 11 Exhibit Ex. K - Corr. Re. Performance Reviews, # 12 Exhibit Ex. L - Dr. Wolpert Report, # 13 Exhibit Ex. M - Sample Performance Review, # 14 Exhibit Ex. N - Wolfe Dep., # 15Exhibit Ex. O - Petersen Decl.)(Michelen, Lucas) (Entered: 12/20/2021)
12/20/2021
41
RESPONSE to Motion re 37 MOTION for Partial Summary Judgment as to Defendant Ring Power's Faragher Affirmative Defense filed by Ring Power Corporation. (Attachments: # 1 Exhibit EEOC Exhibit 14, # 2 Exhibit EEOC Exhibit 16, # 3 Exhibit Jones Sworn Statement, # 4 Exhibit Leach Sworn Statement)(Feigel, Leonard) (Entered: 12/20/2021)
12/20/2021
42
RESPONSE in Opposition re 36 MOTION In Limine Daubert Motion to Exclude Opinions Proffered by Dr. Edward Wolpert filed by Ring Power Corporation. (Attachments: # 1 Exhibit Exhibit 1, # 2 Exhibit Exhibit 2, # 3 Exhibit Exhibit 3)(Feigel, Leonard) (Entered: 12/20/2021)
12/20/2021
43
RESPONSE in Opposition re 33 MOTION for Summary Judgment and Memorandum in Support filed by United States Equal Employment Opportunity Commission. (Attachments: # 1 Exhibit A - Ring Power Employee List with Races, # 2 Exhibit B- Deposition of Gary Wolfe, # 3 Exhibit C- Technician I & Technician II Job Descriptions, # 4 Exhibit D- Deposition Jason Bickerstaff, # 5Exhibit E- Employee Annual Performance Review Form, # 6 Exhibit F- Employee Probationary Performance Review Form, # 7 Exhibit G- Shakeem Petersen Professional Qualifications, # 8 Exhibit H- Ring Power's Interview Notes for Shakeem Petersen, # 9 Exhibit I - Ring Power's Termination Record for Shakeem Petersen, # 10 Exhibit J - Declaration of Shakeem Petersen, # 11 Exhibit K1- Spreadsheet Demonstrating Shop Equipment/Maintenance of Facility Work Assignments, # 12 Exhibit K2- Spreadsheet Demonstrating Internal/External Work Assignments, # 13 Exhibit L- Spreadsheets Demonstrating Overall Pay, # 14 Exhibit M- Carlson Write-Up of Shakeem Petersen for Safety Issue, Threatening Suspension without Pay, # 15 Exhibit N- Non-Black Technicians' Write-Ups for Safety Issues, No Threats of Suspension without Pay, # 16 Exhibit O - Carlson Write-Up of Shakeem Petersen for Early Departure, Threatening Suspension without Pay, # 17 Exhibit P- Shakeem Petersen's Written Complaints to Carlson, as Foreman, about Work Assignments, # 18 Appendix Exhibit Index)(Banks, Oshia) (Entered: 12/20/2021)
12/30/2021
44
Joint MOTION for Extension of Time to File Response/Reply as to 33 MOTION for Summary Judgment and Memorandum in Support, 41 Response to motion, 43 Response in Opposition to Motion, 37 MOTION for Partial Summary Judgment as to Defendant Ring Power's Faragher Affirmative Defense by United States Equal Employment Opportunity Commission. (Andre, Beatriz) Motions referred to Magistrate Judge Joel B. Toomey. (Entered: 12/30/2021)
01/03/2022
45
ENDORSED ORDER granting 44 Joint Motion to Extend the Deadlines for Reply Memorandum in Support of Summary Judgment. The parties shall have up to and including January 18, 2022 to file their respective replies to 41 and 43 the summary judgment responses. Signed by Magistrate Judge Joel B. Toomey on 1/3/2022. (AJS) (Entered: 01/03/2022)
01/18/2022
46
DEFENDANT'S BRIEF re 43 Response in Opposition to Motion for Summary Judgment filed by Ring Power Corporation. (Attachments: # 1 Exhibit Gary Wolfe Sworn Statement in Support of SJ, # 2 Exhibit Gary Wolfe Sworn Statement of Reply Brief)(Hyde, Kevin) (Entered: 01/18/2022)
01/18/2022
47
REPLY to Response to Motion re 37 MOTION for Partial Summary Judgment as to Defendant Ring Power's Faragher Affirmative Defense filed by United States Equal Employment Opportunity Commission. (Attachments: # 1 Exhibit 1, # 2 Exhibit 2, # 3 Exhibit 3)(Andre, Beatriz) (Entered: 01/18/2022)
03/14/2022
48
Joint MOTION for Extension of Time to File all remaining pretrial deadlines and trial by United States Equal Employment Opportunity Commission. (Michelen, Lucas) Motions referred to Magistrate Judge Joel B. Toomey. (Entered: 03/14/2022)
03/17/2022
49
ORDER granting 48 Joint Motion to Extend Remaining Deadlines, Including Trial. Final pretrial conference continued to 8/22/2022, at 10:00 a.m. Jury trial set for trial term commencing on 9/6/2022, at 9:00 a.m. Signed by Judge Marcia Morales Howard on 3/17/2022. (JW) (Entered: 03/17/2022)