Attacking the First Amendment rights of Florida's largest employer in retaliation for Disney defending LGBTQIA+ people -- nor a good look for our bumptious Boy Governor.
From Axios:
DeSantis' war on Disney splinters GOP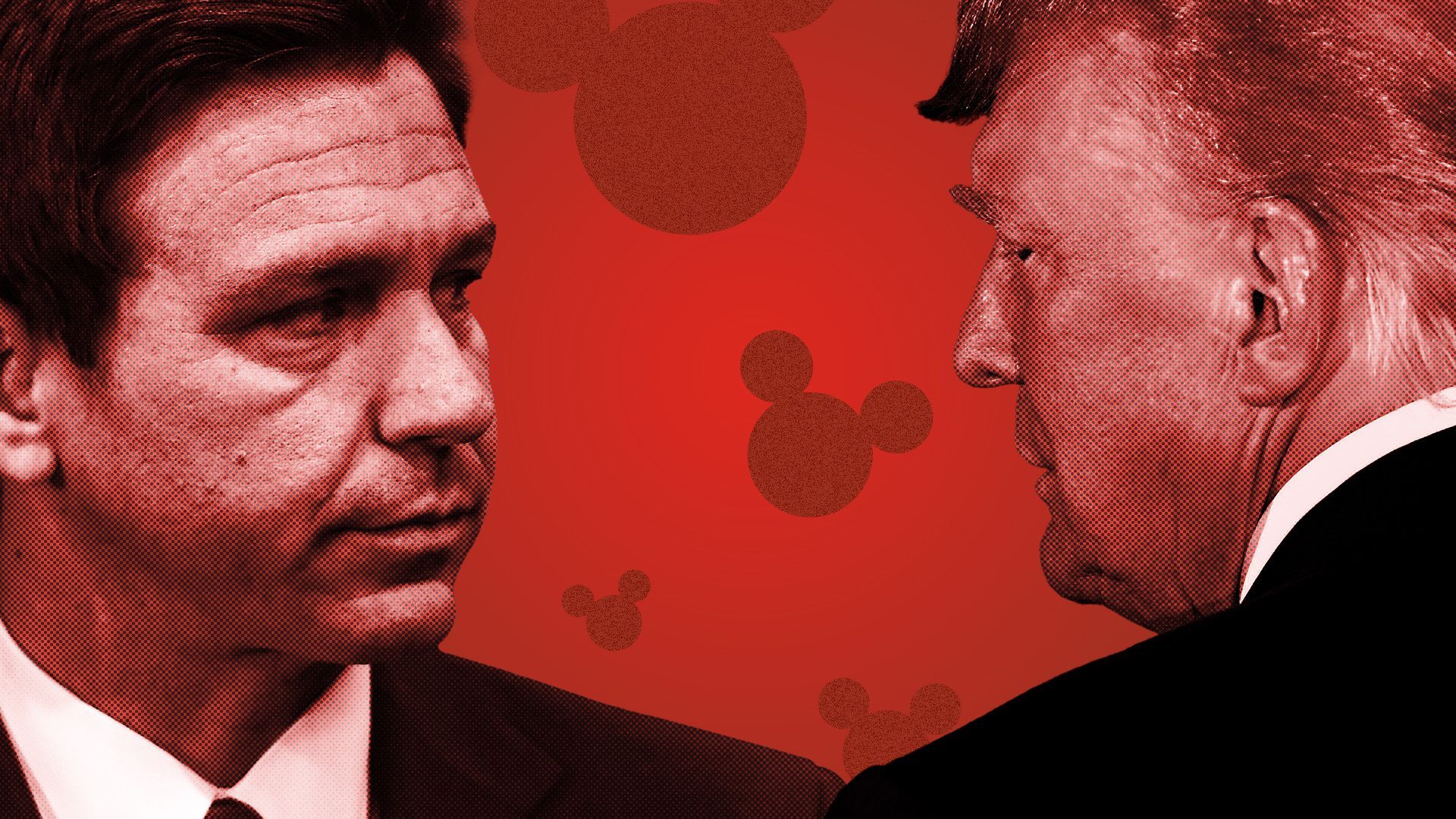 Former President Trump today accused Florida Gov. Ron DeSantis of flying too close to the sun with his war on Disney, setting up a key test of whether the GOP base is more beholden to personality or policy.
Why it matters: DeSantis' meteoric rise has been fueled in large part by his championing of the conservative culture war. By criticizing DeSantis' feud with Disney as a "political stunt," Trump appears to be opposing an "anti-woke" crusade that many MAGA activists have thus far supported.
Driving the news: DeSantis unveiled a proposal yesterday to override Disney's effort to circumvent state oversight of Walt Disney World — suggesting, with a smile, that Florida could build a new state prison next to the park.
The battle with one of Florida's largest employers began when Disney publicly denounced the GOP's Parental Rights in Education Bill, dubbed by critics as the "Don't Say Gay" bill.
DeSantis responded with legislation in April 2022 that revoked the special status of Reedy Creek, a municipal district operated by Disney. In late February, he signed a billtransferring control of the district to the state.
Board members later discovered that the Disney-allied board approved agreements that gave the company authority over most of the future construction in the district — triggering DeSantis' latest broadsides.
What they're saying: "DeSanctus is being absolutely destroyed by Disney," Trump wrote on Truth Social, predicting that the corporation's next move would be to freeze or withdraw investment in Florida.
"In the meantime, this is all so unnecessary, a political STUNT!" Trump added.
Zoom in: Disney is a political and economic force in central Florida: A 2019 study found Orlando's tourism industry generated $75.2 billion in annual economic impact, 463,000 jobs and $5.8 billion in additional state tax revenue.
Former New Jersey Gov. Chris Christie, who is considering running for president as an anti-Trump candidate, blasted DeSantis for defying conservative principles by interfering in "the business of business."
"You have to admit when you screwed up and got taken. It happens," Christie told Semafor this morning.
Former Vice President Mike Pence also criticized DeSantis for taking his Disney feud too far in February, even as he voiced approval for the original education bill.
Between the lines: Disney is not the only issue on which Trump's political instincts may be more in line with the public.
Trump has relentlessly hammered DeSantis for voting as a member of Congress to cut Social Security and Medicare to help balance the budget — a mainstream position in the pre-Trump GOP.
Trump is widely believed to be more liberal on abortion than most Republicans, but he has been conspicuously silent on DeSantis' recent signing of a six-week abortion ban.
What to watch: Donald Trump Jr. has faced some criticism from conservatives for calling for an end to the boycott of Bud Light, which was launched in response to its partnership with a transgender activist.
That response could provide a roadmap for how his father's Disney position will be received — though it would take a political earthquake to dislodge Trump's base.
A recent CBS News poll found that 76% of Republicans now say it's very or somewhat important to them that Republicans be loyal to Trump — up 11 points from January, before his indictment.