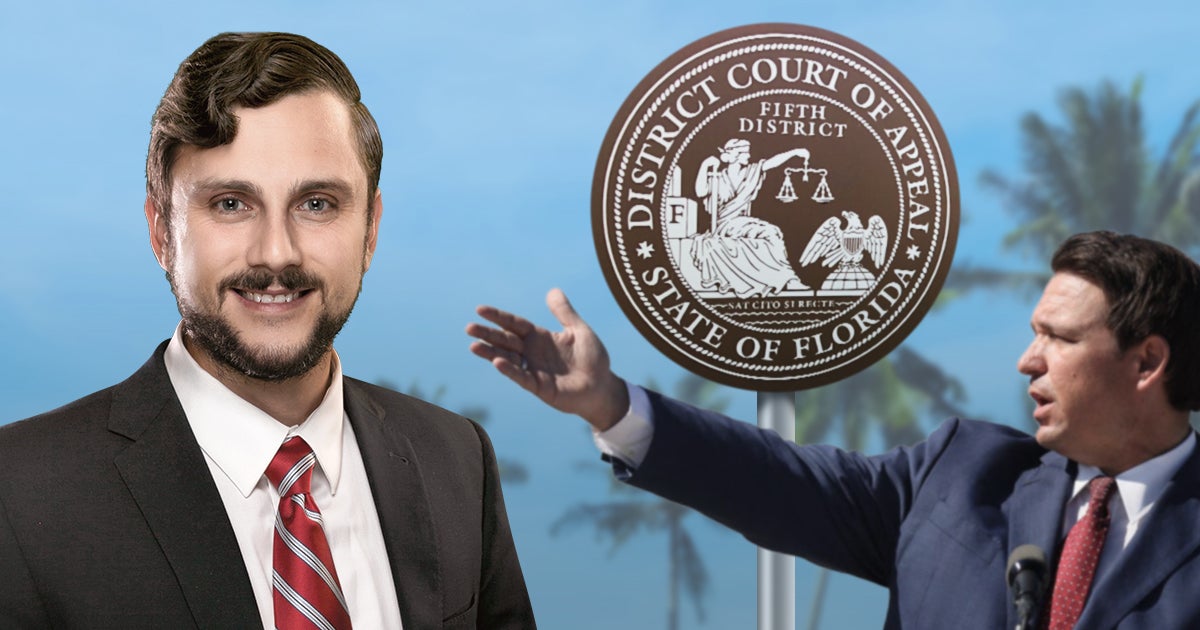 Another right-winger named to judgeship. One of JORDAN PRATT's First Liberty Institute colleagues, MATTHEW KACSMARYK, is now the only judge in the Amarillo Division of the United States District Court for the Northern District of Texas, who allegedly deceived the Senate about his legal writing -- more here: https://cleanupcityofstaugustine.blogspot.com/2023/04/the-controversial-article-matthew.html.
First Liberty Praises Governor DeSantis for Appointment of Jordan Pratt to Florida Fifth District Court of Appeal
April 10, 2023
News Release
For Immediate Release: 4.10.23
Contact: Peyton Luke, media@firstliberty.org
Direct: 972-941-4454
First Liberty Praises Governor DeSantis for Appointment of Jordan Pratt to Florida Fifth District Court of Appeal
Pratt serves as Senior Counsel at First Liberty in its Washington, DC office and leads the public arena practice group.
Daytona Beach, FL—First Liberty Institute today congratulated senior counsel Jordan Pratt on his appointment by Florida Governor Ron DeSantis to the Florida Fifth District Court of Appeal.
You can read the appointment here.
"Jordan is an excellent choice to sit on the court of appeal. He possesses a brilliant legal mind and clear commitment to the rule of law. We wish him the best as he assumes the bench," said Kelly Shackelford, President, CEO and Chief Counsel for First Liberty.
David Hacker, First Liberty's Vice President of Litigation and Senior Counsel added, "Jordan has been a wonderful colleague and a true champion of religious liberty for all Americans. His clear writing, sharp mind, and breadth of experience will serve him well as an appellate judge."
Before joining FLI, Pratt served in various roles in state and federal government: as senior counsel in the U.S. Department of Justice, deputy general counsel in the U.S. Small Business Administration, and deputy solicitor general in the Florida Office of the Attorney General. At the Department of Justice, Pratt advised the White House on judicial nominations and worked to secure the confirmation of numerous federal judges. As a Florida deputy solicitor general, he defended Florida's most important policies at every level of the state and federal court systems, with successful arguments before the U.S. Court of Appeals for the Eleventh Circuit, the Florida Supreme Court, and Florida's First District Court of Appeal.
Pratt graduated as a co-valedictorian of his undergraduate class at the University of Florida, and received his J.D., magna cum laude, from the University of Florida College of Law, where he was a law review editor and president of the school's Federalist Society and Christian Legal Society chapters. After law school, Pratt served as a law clerk to the Hon. Harvey E. Schlesinger on the U.S. District Court for the Middle District of Florida and the Hon. Jennifer W. Elrod on the U.S. Court of Appeals for the Fifth Circuit.
###
About First Liberty Institute
First Liberty Institute is a non-profit public interest law firm and the largest legal organization in the nation dedicated exclusively to defending religious freedom for all Americans.
To arrange an interview, contact Peyton Luke at media@firstliberty.org or by calling 972-941-4454.