Disgraced ex-Commissioner WILLIAM ANTHONY McCLURE is sued for breach of contract, accused of creating a phony website and stealing confidential business information from his former employer.

UPDATE: 12/30 hearing cancelled, parties "actively" working on settlement.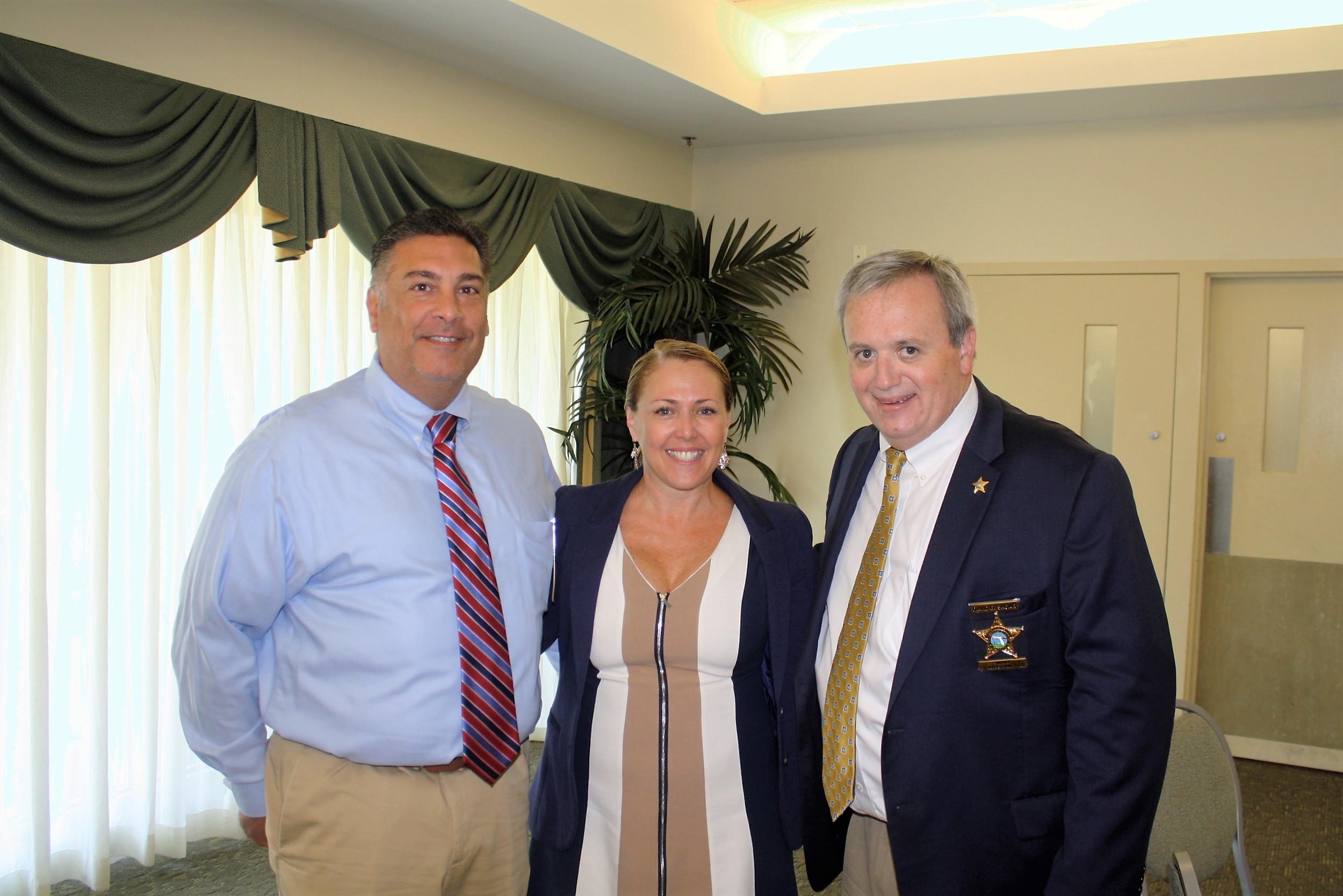 McCLURE with ex-SHERIFF DAVID SHOAR, who legally changed his name from "HOAR" in 1994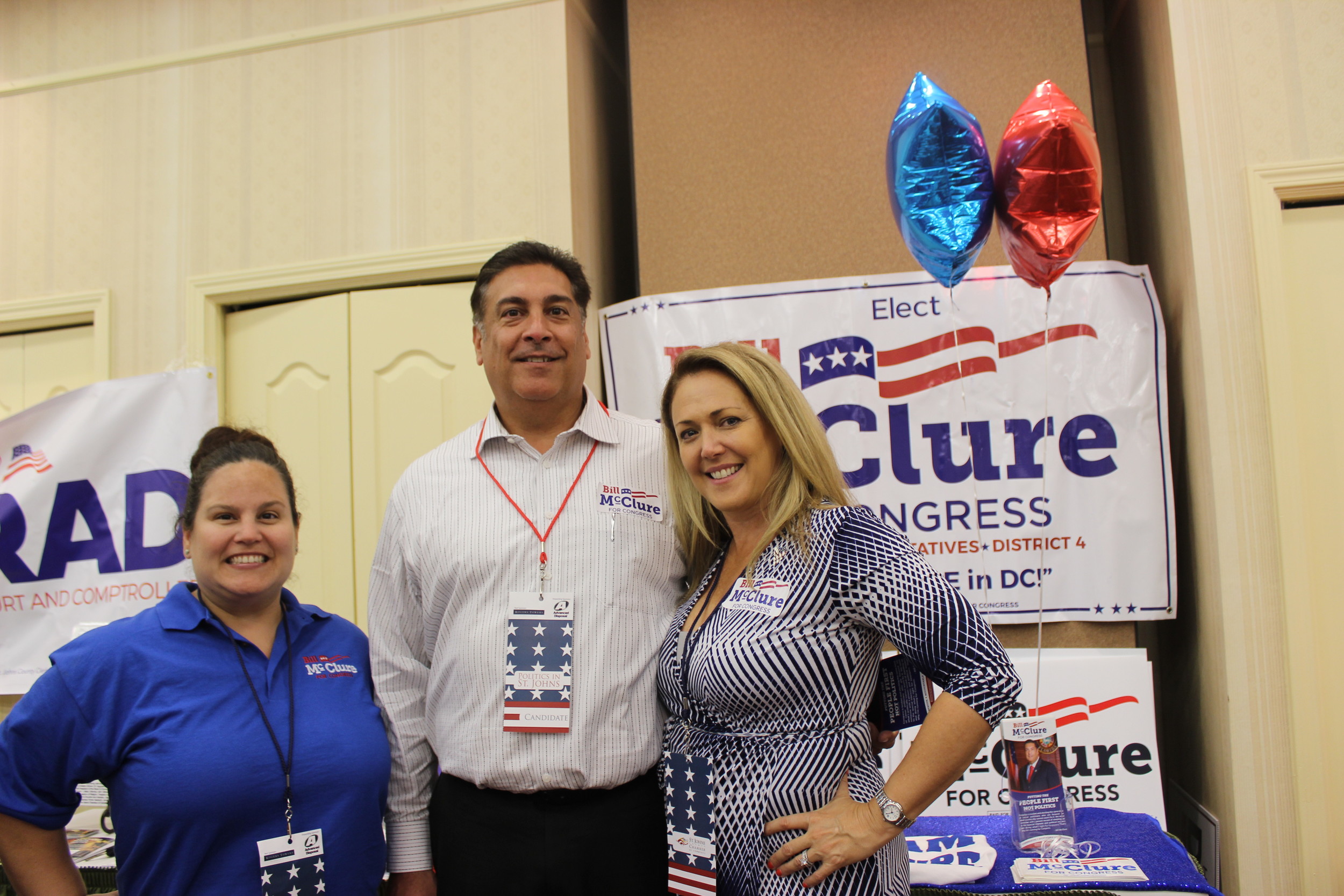 Accusing ex-Commissioner BILL McCLURE of breach of contract -- for using a phony website to solicit customers in its name and misusing confidential customer business information -- PATRIOT GROWTH INSURANCE SERVICES LLC has filed a detailed complaint in Circuit Court, seeking injunction relief and attorney fees against WILLIAM ANTHONY McCLURE, disgraced former St. Johns County Commissioner. Case No. CA21-1325.
Hearing WAS set for December 30, 2021 before Circuit Court Judge Kenneth J. Janesk. II. UPDATE: Hearing cancelled, counsel for the parties advised court they are actively working to settle case.
The complaint was served at McCLURE's residence, which is also the address for McCLURE's business.

McCLURE apparently does not have a local business license for any business at that address.

Political tourist McCLURE ran and lost for St. Augustine Mayor against incumbent Mayor Nancy Shaver. McCLURE was a non-resident, claiming to live at a guest house.

Retaliating for her speaking out on the Michelle O'Connell case, then-Sheriff DAVID SHOAR, and his mentor-henchman, former St. Augustine City Manager WILLIAM BARRY HARRISS, et al. dropped money bombs on Mayor Shaver in 2016 and 2018.

McCLURE was a bullet in their gun in 2018.

McCLURE spent at least $31/vote to lose to beloved Mayor Nancy Shaver. St. Augustine has since reformed its laws, requiring bona fide residence in the City for a year.
McCLURE obtained an illegal endorsement (later withdrawn) from St. Johns County Republican Executive Committee in the non-partisan Mayor's race.
McCLURE was publicly supported in his race against Mayor Nancy Shaver by Dr. MICHEL S. PAWLOWSKI, D.Sci., a Republican vote fraudster, who took an adjudication withheld for voting here when he lived in Maryland, father of St. Augustine Beach Commissioner Undine Celeste Pawlowski George.
McCLURE, in the midst of running for St. Augustine Mayor, provided a non-ADA trolley without a wheelchair lift for the St. Augustine Beach Civic Association, resulting in an ADA complaint.
McCLURE was found in contempt of court and ordered incarcerated over years of nonpayment of child support, seemingly aided and abetted by the Clerk of Courts, then HUNTER SINCLAIR CONRAD, who failed to provide requested records and claimed the search warrant for McCLURE's businesses could not be found.

McCLURE ran and lost for Congress in 2016, while a County Commissioner in St. Johns County, while providing a Jacksonville home address for his Congressional race, and

claiming that he would not accept a Congressional pension; he was at that time a member of the Florida Retirement System

.

McCLURE's and his mother's alleged MEDI+ M.D. pill mill chain was

raided

in 2014 by federal and state agents probing Medicare and Medicaid fraud.

McCLURE was the subject of a nationwide felony arrest warrant over North Carolina credit card check charges brought by his former business partner.
McCLURE has now sued his second wife, Kimberly, for divorce and she has counterclaimed.

Footnote: That divorce case is set for an April 4, 2022 trial before Circuit Court Judge CHISTOPHER FEREBEE, former Chief Deputy State's Attorney under State's Attorney RALPH JOSEPH LARIZZA. They dropped the City of St. Augusine Beach Police Department's criminal case against LEONARD PATRICK TRINCA for his Election Day 2016 assault and battery on the late Rosetta Bailey. (TRINCA was represented by attorney Patrick Canan, who procured hoky conclusory affidavits from distant non-witnesses Robert and Andrea Samuels, St, Augustine Beach Mayor, defeated for re-election, who both claimed they saw nothing).
Rather than letting a jury decide the case of an assault and battery of a political candidate by her opponents campaign manager, Republican State's Attorney RALPH JOSEPH LARIZZA fixed the case out of deference for Republican St. Augustine Beach Mayor RICHARD BURTT O'BRIEN, who paid fines to the Florida Elections Commission and City of St. Augustine Beach resigning in disgrace unexpectedly,
I was at the State's Attorney's office waiting room in St. Augustine the day that LARIZZA & CO. fixed the case, accompanying Rose and Mark Bailey as they waited for FEREEBEE, who was late. FEREBEE refused to allow me to cover the meeting -- he told me, "We don't need your help."
LARIZZA and ex-Sheriff DAVID SHOAR also fixed the case of State of Florida v. JEREMY BANKS, involving the September 2, 2010 homicide of Ms. Michelle O'Connell in BANKS' residence with BANKS' service weapon. In 1994, oleaginous ethically-challlenged DAVID SHOAR legally changed his surname from "HOAR" to "SHOAR."