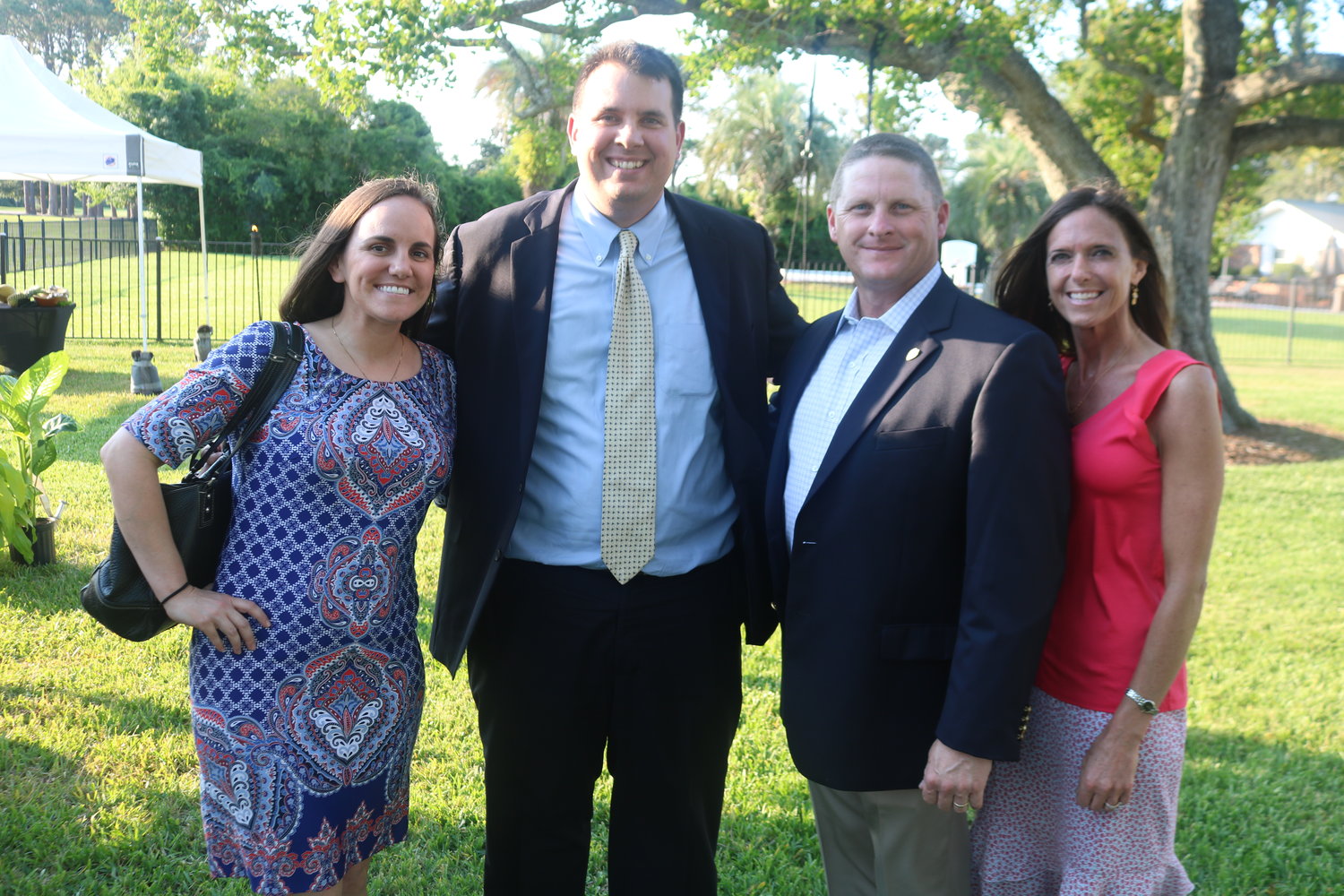 As Jesse Unruh said it best, "Money is the mother's milk of politics."
Here's new St. Johns County Court Judge Lauren Blocker, et ux, JEREMIAH RAY BLOCKER, County Commissioner, with Sheriff Robert Hardwick, et ux. In the aggregate, the pair has raised some $1 million in corporate contributions, 2018-2022.
During the 2022 election cycle alone, controversial first-term St. Johns County Commissioner JEREMIAH RAY BLOCKER has raised more than $182,433 in campaign cash and in-kind contributions. His pal, Sheriff Hardwick, raised more than twice that amount in 2020.
BLOCKER's first and only 2022 opponent to date is the popular populist seven-time protest candidate, disability rights advocate and Merill Paul Roland, is self-funding his campaign, with enough money banked to pay is filing fee.
As long as he lives and lies, JEREMIAH RAY BLOCKER will always be known as the buumptious bigoted BLOCKER who BLOCKED a routine LGBTQIA+ Pride proclamation similar to those passed in St. Augustine and St. Augustine Beach. His first campaign contributions for the re-election came from another devious developer doormat, ROY ALAIMO, JR., who lustily supported BLOCKER's anti-LGBTQIA+ Pride proclamation stance, and who withdrew his name from consideration for the Governor's appointment of the St. Johns County Commissoion District 2 Commission seat.
JEREMIAH BLOCKER helped procure a Governor DeSantis appointment -- a County Court judgeship for his eminently qualified significantly better half, corporate lawyer Lauren Blocker, to County Court.
Read below for the Big Money haul of Commissioner BLOCKER.
BLOCKER once fancied himself a reformer, rightly supporting firing County Administrator MICHAEL DAVID WANCHICK, while voting to hire unqualified replacement HUNTER SINCLAIR CONRAD, his friend and classmate at a dying soon-to-be defunct for-profit law school, Florida Coastal. THere was no advertising and no search Hiring CONRAD gave the unqualified appointee of GOvernor RICHARD LYNN SCOTT a safe harbor. It prevented Democrats from raising his being "Clerk E" in a Chicago federal criminal indictment of DONALD DONZIGER, JR. and his PENN CREDIT CORP., a government contractor with St. Johns County Clerk of Courts and Comptroller debt collection contractor.
Like other ethically-challenged developer doormats and Dull Republicans in St. Johns County, corpulent BLOCKER's campaign is funded by enemies of government transparency, including dodgy seekers of government favors -- clearcutting, wetland-filling, wildlife-killing "developers, which are ruining the St. Johns County that we know and love and call "God's country."
BLOCKER's contributors include developer fanboy DAVID BERNARD SHOAR, who legally changed his name from "HOAR" in 1994; S/HOAR will always be known as the disgraced ex-Sheriff who covered up the September 2, 2010 homicide of Michelle O'Connell and never knew for five months of more than $702,66 embezzled by his trusted Finance Director, Raye Brutnell, 25 feet from his office.
From Supervisor of Elections website;
Candidate: Jeremiah R. Blocker
Office: County Commission - Dist 4
Campaign Treasurer's Report – Itemized Contributions
Seq#
Date
Contributor
Entity
Occupation
Cont. Type
Amend
Amount

1

9/10/2021

Roy Alaimo
***Protected Voter***

Individual

Sales

Check

$1,000.00

2

9/10/2021

Arms & Alaimo, LLC
52 Tuscan Way, 202-187
St. Augustine, FL 32092

Business

Owner

Check

$500.00

3

9/10/2021

Roy's Rental Homes, LLC
52 Tuscan Way, 202-187
St. Augustine, FL 32092

Business

Owner

Check

$500.00

4

9/10/2021

Gavin Rollins
1225 First Street
Alexandria, VA 22314

Individual

Military

Check

$500.00

5

9/10/2021

Brett Simon
105 Woodland Drive
Ponte Vedra Beach, FL 32082

Individual

Membership Director

Check

$100.00

6

9/10/2021

Rory Diamond
1515 Ocean Front
Neptune Beach, FL 32266

Individual

CEO

Check

$1,000.00

7

9/10/2021

Jacob McCrea
4312 Plaza Gate Lane South
Jacksonville, FL 32217

Individual

Attorney

Check

$500.00

8

9/10/2021

Alex Sharp
130 Orie Griffin Blvd
Palatka, FL 32177

Individual

Attorney

Check

$500.00

9

9/10/2021

Kenneth Morgan
12433 Antler Hill Dr N
Jacksonville, FL 32224

Individual

Customer Support

Check

$100.00

10

9/10/2021

Justin Taylor
155 Daydream Avenue, 5301
Yulee, FL 32097

Individual

Director of Sales & Marketing

Check

$200.00

11

9/10/2021

Daniel Hilbert
***Protected Voter***

Individual

Attorney

Check

$500.00

12

9/10/2021

Anne Marie Gennusa
309 Kingsley Lake Drive, 903
St. Augustine, FL 32092

Individual

Attorney

Check

$1,000.00

13

9/11/2021

William Owen
435 Hunters Lake Way, 1304
Ponte Vedra, FL 32081

Individual

Attorney

Check

$500.00

14

9/11/2021

Lauren Beck
1052 Durbin Parke Drive
Saint Johns, FL 32259

Individual

Accountant

Check

$100.00

15

9/11/2021

Jack Davidson
1816 Kerry St.
Minneola, FL 34715

Individual

Law enforcement

Check

$100.00

16

9/13/2021

Marina Pangia
5674 Clouds Mill Dr
Alexandria, VA 22310

Individual

Attorney

Check

$50.00

17

9/13/2021

Michael Pangia
5674 Clouds Mill Drive
Alexandria, VA 22310

Individual

Attorney

Check

$50.00

18

9/14/2021

Adam Brandon
2743 Scott Mill Terrace
Jacksonville, FL 32257

Individual

Attorney

Check

$250.00

19

9/14/2021

Dane Grey
76 South Laura St, 1702
Jacksonville, FL 32202

Individual

Transportation Executive

Check

$1,000.00

20

9/14/2021

David Shoar
7 Hawaiian Boulevard
St. Augustine, FL 32080

Individual

Retired

Check

$1,000.00

21

9/14/2021

Daniel Bean
309 St. Johns Golf Drive
St. Augustine, FL 32092

Individual

Attorney

Check

$500.00

22

9/14/2021

Scott Beaver
***Protected Voter***

Individual

Law Enforcement

Check

$250.00

23

9/15/2021

Michael Taylor
***Protected Voter***

Individual

Law Enforcement

Check

$250.00

24

9/15/2021

Edward O'Sheehan
2216 N 45 Avenue
Hollywood, FL 33021

Individual

Attorney

Check

$500.00

25

9/15/2021

Cameron Brown
1271 West Forest Lake Drive
Altamonte Springs, FL 32714

Individual

Attorney

Check

$50.00

26

9/15/2021

Tridente Strategies
PO Box 348068
Coral Gables, FL 33234

Individual

Consulting

Check

$1,000.00

27

9/15/2021

jennifer alaimo
***Protected Voter***

Individual

Teacher

Check

$1,000.00

28

9/16/2021

Karen Burke
567 Canal Road
Ponte Vedra Beach, FL 32082

Individual

Retired

Check

$1,000.00

29

9/16/2021

Richard Burke
567 Canal Road
Ponte Vedra Beach, FL 32082

Individual

CEO

Check

$1,000.00

30

9/16/2021

Irving Kass
4 Saint George Street, 101
St. Augustine, FL 32084

Individual

Hotelier

Check

$1,000.00

31

9/17/2021

Henry Dean
224 North Forest Dune Drive
St Augustine, FL 32080

Individual

Retired

Check

$500.00

32

9/17/2021

Joe Finnegan
279 Saint George Street
St. Augustine, FL 32084

Individual

Innkeeper

Check

$1,000.00

33

9/18/2021

Nick Howland
3826 Vickers Lake Drive
Jacksonville, FL 32224

Individual

Consultant

Check

$100.00

34

9/19/2021

james blocker
4139 S SHORE DR
DELTON, MI 49046

Individual

Law enforcement

Check

$250.00

35

9/20/2021

Jason Reding
4001 SW 5th Street
Coral Gables, FL 33134

Individual

Lawyer

Check

$100.00

36

9/20/2021

Colton Mays
2468 Montview Dr NW
Atlanta, GA 30305

Individual

Analyst

Check

$1,000.00

37

9/20/2021

Becky Shaffar
9139 E. Milton Ave.
Overland, MO 63114

Individual

Retired

Check

$500.00

38

9/20/2021

Phillip Mays
2468 MONTVIEW DR NW
Atlanta, GA 30305

Individual

Managing Partner

Check

$1,000.00

39

9/21/2021

Stacey Mays
2468 Montview Drive Northwest
Atlanta, GA 30305

Individual

Speech Pathologist

Check

$1,000.00

40

9/22/2021

Lee Ashlock
***Protected Voter***

Individual

Federal Government

Check

$500.00

41

9/23/2021

Nick Howland
3826 Vickers Lake Drive
Jacksonville, FL 32224

Individual

Executive

Check

$400.00

42

9/24/2021

Lisha Wise
***Protected Voter***

Individual

Volunteer

Check

$1,000.00

43

9/24/2021

Charlotte Moore
***Protected Voter***

Individual

Student

Check

$1,000.00

44

9/24/2021

Isabel Moore
***Protected Voter***

Individual

Sports Marketing

Check

$1,000.00

45

9/24/2021

Harold Moore
***Protected Voter***

Individual

Student

Check

$1,000.00

46

9/24/2021

Lindsay Moore
***Protected Voter***

Individual

Interior design

Check

$1,000.00

47

9/24/2021

Charley Moore
***Protected Voter***

Individual

Sales

Check

$1,000.00

48

9/24/2021

Andrew Evener
201 River Island Cir
St. Augustine, FL 32095

Individual

Investment Specialist

Check

$50.00

49

9/27/2021

William Cosgrove
85 Ponte Vedra Blvd
Ponte Vedra Beach, FL 32082

Individual

Retired

Check

$200.00

50

9/27/2021

Matthew Fairbairn
61 Ponte Vedra Blvd
Ponte Vedra Beach, FL 32082

Individual

Business Owner

Check

$1,000.00

51

9/27/2021

Turtle Lane Farm
14130 Calypso Lane
Wellington, FL 33414

Business

RealEstate

Check

$1,000.00

52

9/28/2021

Brady Stratton
519 Old Bluff Dr
Ponte Vedra Beach, FL 32081

Individual

Real Estate

Check

$1,000.00

53

9/28/2021

Robert Hardwick
***Protected Voter***

Individual

Law enforcement

Check

$500.00

54

9/28/2021

Kendell Hardwick
***Protected Voter***

Individual

Nurse

Check

$500.00

55

9/28/2021

Brandon Patty
1036 Meadow View Ln
Saint Augustine, FL 32092

Individual

Government

Check

$1,000.00

56

9/30/2021

Paul Batavia
12401 88th Place North
West Palm Beach, FL 33412

Individual

It Management

Check

$500.00

57

9/30/2021

Dylan Rumrell
162 San Marco Avenue
St. Augustine, FL 32084

Individual

Realtor

Check

$200.00

58

9/30/2021

Len Pullen
***Protected Voter***

Individual

CEO

Check

$50.00

59

9/30/2021

William Odom
1052 Durbin Parke Drive
Jacksonville, FL 32259

Individual

Attorney

Check

$300.00

60

9/30/2021

James Myers
10213 Altavista Ave Apt 304
Tampa, FL 33647

Individual

Nurses Aide

Check

$50.00

61

9/30/2021

Michael Stanski
1710 Woodmere Drive
Jacksonville, FL 32210

Individual

Attorney

Check

$125.00

62

9/30/2021

Edward Mclean
1836 Ridgewood Street
Sarasota, FL 34231

Individual

Pharmacist

Check

$1,000.00

63

9/30/2021

Lori Moffett
917 Ponte Vedra Boulevard
Ponte Vedra Beach, FL 32082

Individual

Financial Services

Check

$1,000.00

64

9/10/2021

Mydock Law
309 Kingsley Lake Drr Ste 904
St Augustine, FL 32092

Business

Law Firm

Check

$500.00

65

9/16/2021

St Augustine Distillery Co
112 Riberia St
St. Augustine, FL 32084

Business

Distillery

Check

$1,000.00

66

9/13/2021

Mary K Kaiser
5305 S W 64th Ct
Miami, FL 33155

Individual

Nurse

Check

$1,000.00

67

9/14/2021

Jacksonville Kennel Club, Inc
PO Box 959
Orange Park, FL 32067

Business

Pari Mutual

Check

$1,000.00

68

9/14/2021

Blue Monarch Holdings, LLC
PO Box 959
Orange Park, FL 32067

Business

Pari Mutual

Check

$1,000.00

69

9/14/2021

Bayard Raceways, Inc
PO Box 959
Orange Park, FL 32068

Business

Pari Mutual

Check

$1,000.00

70

9/14/2021

Orange Park Kennel Club, Inc
PO Box 959
Orange Park, FL 32069

Business

Pari Mutual

Check

$1,000.00

71

9/16/2021

William M Blocker II
1506 Farsta Ct
Reston, VA 20190

Individual

Attorney

Check

$250.00

72

9/14/2021

Jacksonville Greyhound Racing,
PO Box 959
Orange Park, FL 32069

Business

Pari Mutual

Check

$1,000.00

73

9/17/2021

Parrish Farms Investors, LLC
200 Business Park Circle, Ste 105
St Augustine, FL 32095

Business

Investment Company

Check

$1,000.00

74

9/17/2021

Heritage Development Group
PO Box 600369
St Johns, FL 32260

Business

Real Estate

Check

$1,000.00

75

9/17/2021

HDG Tringali Barn, LLC
200 Business Park Circle, Ste 105
St Augustine, FL 32095

Business

Event Venue

Check

$1,000.00

76

9/17/2021

Mastercraft Builder Group, LLC
200 Business Park Circle, Ste 105
St Augustine, FL 32095

Business

Building Company

Check

$1,000.00

77

9/17/2021

Premier Pools and Outdoor Livi
200 Business Park Circle, Ste 105
St Augustine, FL 32095

Business

Pool Company

Check

$1,000.00

78

9/16/2021

Driver, McAfee, Hathorne & Die
One Independent Drive, Ste 1200
Jacksonville, FL 32202

Business

Law Firm

Check

$1,000.00

79

9/1/2021

Wheelhouse Storage, LLC
4314 Pablo Oaks Court
Jacksonville, FL 32224

Business

Storage Company

Check

$500.00

80

9/1/2021

Ponte Vedra Tower Development,
4314 Pablo Oaks Court
Jacksonville, FL 32224

Business

Cell Tower Company

Check

$500.00

81

9/2/2021

Mike White
402 Ponte Vedra Blvd
Ponte Vedra Beach, FL 32082

Individual

Real Estate Investor

Check

$1,000.00

82

9/5/2021

David Wallace
40 Phillips Ave
Ponte Vedra Beach, FL 32082

Individual

Developer

Check

$500.00

83

9/5/2021

Lauren Wallace
40 Phillips Ave
Ponte Vedra Beach, FL 32083

Individual

Homemaker

Check

$500.00

84

9/2/2021

Christopher Pilinko
44 Phillips Ave
Ponte Vedra Beach, FL 32084

Individual

President

Check

$500.00

85

9/2/2021

Stephanie Pilinko
44 Phillips Ave
Ponte Vedra Beach, FL 32085

Individual

Homemaker

Check

$500.00

86

9/7/2021

Ray M O'Steen
15 Solano Road
Ponte Vedra Beach, FL 32082

Individual

Investor

Check

$500.00

87

9/7/2021

Michael O'Steen
15 Solano Road
Ponte Vedra Beach, FL 32082

Individual

Real Estate

Check

$500.00

88

9/5/2021

Richard Ray
205 Signature Drive
Ponte Vedra, FL 32081

Individual

Community Chairman

Check

$500.00

89

9/5/2021

Joellyn Ray
205 Signature Drive
Ponte Vedra, FL 32081

Individual

Homemaker

Check

$500.00

90

9/14/2021

The Widewater Trust
4314 Pablo Oaks Court
Jacksonville, FL 32224

Business

Investment Company

Check

$500.00

91

9/1/2021

Split Pine Landscape & Design,
4314 Pablo Oaks Court
Jacksonville, FL 32224

Business

Landscape Maintenance

Check

$500.00

92

9/1/2021

Roger M O'Steen
4314 Pablo Oaks Court
Jacksonville, FL 32224

Individual

Real Estate Investor

Check

$500.00

93

9/1/2021

ROK Storage, LLC
4314 Pablo Oaks Court
Jacksonville, FL 32224

Business

Covered Storage

Check

$500.00

94

9/2/2021

Big Creek Timber, LLC
4314 Pablo Oaks Court
Jacksonville, FL 32224

Business

Timber Grower

Check

$1,000.00

95

9/2/2021

Rockmoor Investments, LLC
4314 Pablo Oaks Court
Jacksonville, FL 32224

Business

Investment Activity

Check

$1,000.00

96

9/14/2021

BJD Timberlands, LLC
4314 Pablo Oaks Court
Jacksonville, FL 32224

Business

Real Estate

Check

$1,000.00

97

9/20/2021

Thomas O Ingram
7010 Madrid Ave
Jacksonville, FL 32217

Individual

Attorney

Check

$1,000.00

98

9/21/2021

Grand Marana, LLC
12 S Castillo Drive
St Augustine, FL 32084

Business

PirateMuseum

Check

$1,000.00

99

9/21/2021

Douglas Davis
***Protected Voter***

Individual

CEO

Check

$1,000.00

100

9/21/2021

Daniel Laubacker
10613 Quail Ridge Dr
Ponte Vedra, FL 32081

Individual

President

Check

$1,000.00

101

9/21/2021

NGMB Properties, LLC
1478 Riverplace Blvd, Ste 1808
Jacksonville, FL 32207

Business

Real Estate

Check

$1,000.00

102

9/21/2021

Honours Golf - WGV, LLC
1960 Stonegate Dr
Birmingham, AL 35242

Business

Retail

Check

$1,000.00

103

9/21/2021

Angela Davis
***Protected Voter***

Individual

Homemaker

Check

$1,000.00

104

9/21/2021

Jason Couturier
75 Royal Lake Drive
Ponte Vedra, FL 32081

Individual

CFO

Check

$1,000.00

105

9/24/2021

Duke Properties, Inc
437 E Monroe St, Ste 100
Jacksonville, FL 32202

Business

Property Management

Check

$1,000.00

106

9/24/2021

Chatham Apartments
437 E Monroe St, Ste 100
Jacksonville, FL 32202

Business

Apartment Complex

Check

$1,000.00

107

9/24/2021

Lions Head, Ltd
12276 San Jose Blvd, Ste 721
Jacksonville, FL 32223

Business

Apartment Complex

Check

$1,000.00

108

9/24/2021

Baytree on Baymeadows, Ltd
12276 San Jose Blvd, Ste 721
Jacksonville, FL 32223

Business

Apartment Complex

Check

$1,000.00

109

9/24/2021

Jax Offices 400, LLC
12276 San Jose Blvd, Ste 721
Jacksonville, FL 32223

Business

Property Management

Check

$1,000.00

110

9/24/2021

T Braxton Adamson
141 Crestway Ln
Ponte Vedra, FL 32081

Individual

Property Management

Check

$1,000.00

111

9/27/2021

Matthew Cline
***Protected Voter***

Individual

Attorney

Check

$1,000.00

112

9/27/2021

TGC Sundew/Nochaway, LLC
480 S Hwy 17
San Mateo, FL 32187

Business

Commercial Development

Check

$1,000.00

113

9/27/2021

Marc Angelo
1283 Ponte Vedra Blvd
Ponte Vedra Beach, FL 32082

Individual

Business Owner

Check

$1,000.00

114

9/27/2021

Friends of Ponte Vedra
PO Box 2801
Ponte Vedra, FL 32004

Political Comm.
(Federal or State)

Political Action Committee

Check

$1,000.00

115

9/28/2021

Zachary Miller
***Protected Voter***

Individual

Attorney

Check

$1,000.00

116

9/27/2021

Beth Angelo
1283 Ponte Vedra Blvd
Ponte Vedra Beach, FL 32082

Individual

Investor

Check

$1,000.00

117

9/15/2021

Jennifer Maggiore
12881 Hawk Crest Place
Jacksonville, FL 32258

Individual

Executive Director

Check

$1,000.00

118

9/15/2021

Jason W Crews
530 Irish Rose Road
St Augustine, FL 32092

Individual

Civil Engineer

Check

$99.00

119

9/16/2021

Brian Landeweer
4373 Blue Heron Drive
Ponte Vedra Beach, FL 32082

Individual

Civil Engineer

Check

$75.00

120

9/17/2021

Mark Manwell
2038 Hawkcrest Drive East
St Johns, FL 32259

Individual

Civil Engineer

Check

$95.00

121

9/17/2021

Jason Hall
6459 Jack Wright Island Rd
St Augustine, FL 32092

Individual

Civil Engineer

Check

$75.00

122

9/16/2021

Anne Marie Newland
8137 Summerside Circle
Jacksonville, FL 32256

Individual

Civil Engineer

Check

$75.00

123

9/16/2021

Kristen Weeber
14094 Mahogany Ave
Jacksonville, FL 32258

Individual

Property Manager

Check

$1,000.00

124

9/20/2021

Jane Miller
2306 Greenside Court
Ponte Vedra Beach, FL 32082

Individual

Attorney

Check

$1,000.00

125

9/21/2021

Ashford Mathews
1247 Ardsley Rd
Jacksonville, FL 32207

Individual

Teacher

Check

$1,000.00

126

9/21/2021

Kelsey Welch
14615 Mandarin Rd
Jacksonville, FL 32223

Individual

Nurse

Check

$75.00

127

9/17/2021

Jill Wild
***Protected Voter***

Individual

Teacher

Check

$1,000.00

128

9/21/2021

Janet Ma
3085 Prescott Falls Drive
Jacksonville, FL 32224

Individual

Life Coach

Check

$1,000.00

129

9/22/2021

Regina Mathews
3145 Bishop Estates Rd
Fruit Cove, FL 32259

Individual

Accountant

Check

$1,000.00

130

9/22/2021

Donna Williams
8823 Harpers Glen Court
Jacksonville, FL 32256

Individual

Mental Health Counselor

Check

$1,000.00

131

9/21/2021

Michelle Barnett
395 Summerset Drive
St Johns, FL 32259

Individual

Counselor

Check

$1,000.00

132

9/28/2021

Aimee Mizell
349 1st st S Apt 501
Jacksonville Beach, FL 32250

Individual

Homemaker

Check

$1,000.00

133

9/27/2021

Tabitha Wilkey
2797 Kelsey Place
Jacksonville, FL 32257

Individual

Legal Administrator

Check

$99.00

134

9/29/2021

FECI Company, LLC
700 NW 1st Ave, Ste 1620
Miami, FL 33136

Business

Railway Company

Check

$1,000.00

135

9/29/2021

Florida East Coast Industries,
700 NW 1st Ave, Ste 1620
Miami, FL 33136

Business

Railway Company

Check

$1,000.00

136

9/29/2021

FECI Holding Corp
700 NW 1st Ave, Ste 1620
Miami, FL 33136

Business

Investment Company

Check

$1,000.00

137

9/29/2021

Flagler Construction Corporati
700 NW 1st Ave, Ste 1620
Miami, FL 33136

Business

Construction

Check

$1,000.00

138

9/29/2021

Committee for Responsible Repr
115 East Park Ave, Ste 1
Tallahassee, FL 32301

Political Comm.
(Federal or State)

Political Action Committee

Check

$1,000.00

139

9/29/2021

Good Government for Florida, I
115 East Park Ave, Ste 1
Tallahassee, FL 32301

Political Comm.
(Federal or State)

Political Action Committee

Check

$1,000.00

140

9/29/2021

Growing Florida's Economy
115 East Park Ave, Ste 1
Tallahassee, FL 32301

Political Comm.
(Federal or State)

Political Action Committee

Check

$1,000.00

141

9/29/2021

Florida Coalition for Conserva
115 East Park Ave, Ste 1
Tallahassee, FL 32301

Political Comm.
(Federal or State)

Political Action Committee

Check

$1,000.00

142

9/29/2021

Sun Coast Patriots
115 East Park Ave, Ste 1
Tallahassee, FL 32301

Political Comm.
(Federal or State)

Political Action Committee

Check

$1,000.00

143

9/29/2021

Florida Citizens for Change
115 East Park Ave, Ste 1
Tallahassee, FL 32301

Political Comm.
(Federal or State)

Political Action Committee

Check

$1,000.00

144

9/29/2021

Serious Conservatives
115 East Park Ave, Ste 1
Tallahassee, FL 32301

Political Comm.
(Federal or State)

Political Action Committee

Check

$1,000.00

145

9/29/2021

Florida Taxpayers Defense
115 East Park Ave, Ste 1
Tallahassee, FL 32301

Political Comm.
(Federal or State)

Political Action Committee

Check

$1,000.00

146

9/29/2021

Florida Strong
115 East Park Ave, Ste 1
Tallahassee, FL 32301

Political Comm.
(Federal or State)

Political Action Committee

Check

$1,000.00

147

9/29/2021

Americans for Liberty and Pros
115 East Park Ave, Ste 1
Tallahassee, FL 32301

Political Comm.
(Federal or State)

Political Action Committee

Check

$1,000.00

148

9/24/2021

Martin Stein Jr
1 Independent Dr, Ste 114
Jacksonville, FL 32202

Individual

Chairman

Check

$200.00

149

9/23/2021

Thomas Rueger Jr
22 Solana Rd
Ponte Vedra, FL 32082

Individual

CEO

Check

$500.00

150

9/22/2021

Matthew Wotiz
506 Ponte Vedra Blvd
Ponte Vedra Beach, FL 32082

Individual

Investor

Check

$1,000.00

151

9/23/2021

Ryan Schwartz
415 Ponte Vedra Blvd
Ponte Vedra Beach, FL 32082

Individual

COO

Check

$500.00

152

9/24/2021

M Ashton Hudson
631 Beach Ave
Atlantic Beach, FL 32233

Individual

Investor

Check

$500.00

153

9/24/2021

Amanda Hudson
631 Beach Ave
Atlantic Beach, FL 32233

Individual

Homemaker

Check

$500.00

154

9/28/2021

David Foley
822 A1A North, Ste 201
Ponte Vedra Beach, FL 32082

Individual

COO

Check

$500.00

155

9/27/2021

Charles Wodehouse III
350 Ponte Vedra Blvd
Ponte Vedra, FL 32082

Individual

CFO

Check

$200.00

156

9/27/2021

Amanda Wodehouse
350 Ponte Vedra Blvd
Ponte Vedra, FL 32082

Individual

Veterinarian

Check

$200.00

157

9/17/2021

John D Coxwell
3490 Otis Rd
Jacksonville, FL 32220

Individual

President

Check

$1,000.00

158

9/17/2021

Jodi V Coxwell
3490 Otis Rd
Jacksonville, FL 32220

Individual

Rancher

Check

$1,000.00

159

9/13/2021

Mousa Consulting
8620 Hunters Creek Drive S.
Jacksonville, FL 32256

Business

Consulting

Check

$1,000.00

160

9/13/2021

Bold City Strategic Partners
221 N. Hogan Street, #306
Jacksonville, FL 32256

Business

Consulting

Check

$1,000.00

161

9/13/2021

Conventus LLC
221 N. Hogan Street, #306
Jacksonville, FL 32256

Business

Consulting

Check

$1,000.00

162

9/13/2021

Baker Law Group, PLLC
140 West Monroe Street
Jacksonville, FL 32256

Business

Law Firm

Check

$1,000.00

163

9/22/2021

Land Title of America, Inc.
2495 US HWY. 1 South
St. Augustine, FL 32086

Business

Title Insurance Company

Check

$1,000.00

164

9/16/2021

Jordan Penna
147 Oak Crest Drive
Lafayette, LA 70503

Individual

Customer Support

Check

$1,000.00

165

9/26/2021

Grace Conservatory, LLC
486 Town Plaza Ave, Ste 450
Ponte Vedra, FL 32081

Business

Fine Arts Company

Check

$1,000.00

166

9/26/2021

Dora Geise
548 Parkbluff Circle
Ponte Vedra, FL 32081

Individual

Marketing

Check

$1,000.00

167

9/26/2021

Rohit Chopra
150 Whisper Rock Drive
Ponte Vedra Beach, FL 32081

Individual

Accountant

Check

$250.00

168

9/24/2021

Curtis Hart
8051 Tara Lane
Jacksonville, FL 32216

Individual

Builder

Check

$1,000.00

169

9/24/2021

Hart Resources, LLC
8051 Tara Lane
Jacksonville, FL 32216

Business

Builder

Check

$1,000.00

170

9/26/2021

Eugene Wilson
72 Palm Island Way
Ponte Vedra, FL 32081

Individual

Teacher

Check

$1,000.00

171

9/21/2021

Woolsey Morcom PLLC
203 Fort Wade Road, Ste 105
Ponte Vedra, FL 32081

Business

Law Firm

Check

$1,000.00

172

9/21/2021

MLWJAW LCC
203 Fort Wade Road, Ste 105
Ponte Vedra, FL 32081

Business

Property Management

Check

$1,000.00

173

9/21/2021

JAWS Consulting LLC
203 Fort Wade Road, Ste 105
Ponte Vedra, FL 32081

Business

Consulting

Check

$1,000.00

174

9/21/2021

Joshua Woolsey
***Protected Voter***

Individual

Attorney

Check

$1,000.00

175

10/27/2021

Timothy McGarvey
57 1/2 Jefferson Avenue
Ponte Vedra Beach, FL 32082

Individual

Real Estate

Check

$1,000.00

176

10/27/2021

Adam Blocker
PO Box 6407
Fort Hood, TX 76544

Individual

US Army

Check

$50.00

177

10/26/2021

Dustin Nemati
11506 Sheepshead Lane
Jacksonville, FL 32226

Individual

Owenby Law

Check

$100.00

178

10/22/2021

Matt McGarvey
1102 A1A North Unit 102
Ponte Vedra Beach, FL 32082

Individual

Real Estate

Check

$1,000.00

179

10/19/2021

Ronald Howland
12 Aspen Leaf Dr
Ponte Vedra, FL 32081

Individual

Self employed

Check

$250.00

180

10/19/2021

William Boyd
5807 NW 15th Lane
Gainesville, FL 32605

Individual

Retired

Check

$250.00

181

10/19/2021

Darla Boyd
5807 NW 15th Lane
GainesvilleGainesvil, FL 32605

Individual

Retired

Check

$250.00

182

10/18/2021

Thomas Gardner
3559 Barton Farm Drive
Ann Arbor, MI 48105

Individual

University of Michigan

Check

$500.00

183

10/17/2021

Tim Chapman
518 Rutile Dr.
Ponte Vedra Beach, FL 32082

Individual

Next Chapter Holdings

Check

$500.00

184

10/14/2021

John Cellucci
101 Overlook Dr
Ponte Vedra Beach, FL 32082

Individual

Retired

Check

$100.00

185

10/13/2021

Russell Blocker
13763 Northeast 226th Avenue Road
Salt Springs, FL 32134

Individual

Furniture Store

Check

$100.00

186

10/11/2021

Mark Bailey
1200 Plantation Island Dr South Ste 210
St. Augustine, FL 32080

Individual

Bailey Financial

Check

$1,000.00

187

10/8/2021

John Kartsonis
546 Lake Road
Ponte Vedra Beach, FL 32082

Individual

DSNFL

Check

$250.00

188

10/2/2021

Kacie McCartney
2203 North Riverside Drive
Tampa, FL 33602

Individual

Mosaic

Check

$50.00

189

10/2/2021

Erich McCartney
2203 North Riverside Drive
Tampa, FL 33602

Individual

Procore

Check

$50.00

190

10/1/2021

American General Properties, L
1 Sleiman Parkway Suite 240
Jacksonville, FL 32216

Business

RealEstate

Check

$1,000.00

191

10/1/2021

Woodmonte Investments, LLC
2700 University Blvd W Ste A2
Jacksonville, FL 32217

Business

Holding Company

Check

$1,000.00

192

10/1/2021

RLP Ventues, Inc
3030 Hartlet Rd Ste 300
Jacksonville, FL 32257

Business

Holding Company

Check

$1,000.00

193

10/1/2021

LND, LLC
3030 Hartlet Rd Ste 300
Jacksonville, FL 32257

Business

Investments

Check

$1,000.00

194

10/1/2021

Intracoastal Associates, LLC
3030 Hartlet Rd Ste 300
Jacksonville, FL 32257

Business

Investments

Check

$1,000.00

195

10/1/2021

CBH, LLC
3030 Hartlet Rd Ste 300
Jacksonville, FL 32257

Business

Investments

Check

$1,000.00

196

10/1/2021

Conservatism Counts
115 East Park Ave, Suite 1
Tallahassee, FL 32301

Political Comm.
(Federal or State)

Political Action Committee

Check

$1,000.00

197

10/1/2021

Accountability in Government,
115 East Park Ave, Suite 1
Tallahassee, FL 32301

Political Comm.
(Federal or State)

Political Action Committee

Check

$1,000.00

198

10/1/2021

Florida Accountability Fund
115 East Park Ave, Suite 1
Tallahassee, FL 32301

Political Comm.
(Federal or State)

Political Action Committee

Check

$1,000.00

199

10/1/2021

Fight for Florida
115 East Park Ave, Suite 1
Tallahassee, FL 32301

Political Comm.
(Federal or State)

Political Action Committee

Check

$1,000.00

200

10/1/2021

Sunshine Leadership
115 East Park Ave, Suite 1
Tallahassee, FL 32301

Political Comm.
(Federal or State)

Political Action Committee

Check

$1,000.00

201

10/1/2021

Better Government Leadership F
115 East Park Ave, Suite 1
Tallahassee, FL 32301

Political Comm.
(Federal or State)

Political Action Committee

Check

$1,000.00

202

10/1/2021

A Bold Florida Future
115 East Park Ave, Suite 1
Tallahassee, FL 32301

Political Comm.
(Federal or State)

Political Action Committee

Check

$1,000.00

203

10/1/2021

Sunshine State Rising
115 East Park Ave, Suite 1
Tallahassee, FL 32301

Political Comm.
(Federal or State)

Political Action Committee

Check

$1,000.00

204

10/1/2021

Floridians for Liberty and Pro
115 East Park Ave, Suite 1
Tallahassee, FL 32301

Political Comm.
(Federal or State)

Political Action Committee

Check

$1,000.00

205

10/1/2021

Libertatem
115 East Park Ave, Suite 1
Tallahassee, FL 32301

Political Comm.
(Federal or State)

Political Action Committee

Check

$1,000.00

206

10/1/2021

J.B. Coxwell Contracting, Inc
6741 Lloyd Road West
Jacksonville, FL 32254

Business

Construction

Check

$1,000.00

207

10/1/2021

Wayne Williford
9410 Coxwell Estates Ct
Jacksonville, FL 32221

Individual

CFO

Check

$1,000.00

208

10/4/2021

Benjie Bates
3400 Crill Avenue Suite 2
Palatka, FL 32177

Individual

Insurance

Check

$1,000.00

209

10/7/2021

A&S Land Development Company
10175 Fortune Parkway Suite 1005
Jacksonville, FL 32256

Business

Landlord

Check

$1,000.00

210

10/15/2021

Fallon Thibodeaux
31527 Judith Dr
Springfield, LA 70462

Individual

Bartender

Check

$1,000.00

211

10/15/2021

Land Resource Group Inc
8833 Perimeter Park Blvd Suite 1001
Jacksonville, FL 32216

Business

Real Estate

Check

$1,000.00

212

10/15/2021

Pioneer Land Development Corp
8825 Perimeter Park Blvd Suite 104
Jacksonville, FL 32216

Business

Real Estate

Check

$1,000.00

213

10/15/2021

Cavle Consulting LLC
8833 Perimeter Park Blvd Suite 1001
Jacksonville, FL 32216

Business

Real Estate

Check

$1,000.00

214

10/15/2021

Bartram Ranch
8825 Perimeter Park Blvd Suite 104
Jacksonville, FL 32216

Business

Neighborhood

Check

$1,000.00

215

10/15/2021

Scott Dollison, Jr
10618 Dodd Rd
Jacksonville, FL 32218

Individual

Military service

Check

$1,000.00

216

10/15/2021

Mill Creek Plantation
8825 Perimeter Park Blvd Suite 104
Jacksonville, FL 32216

Business

Neighborhood

Check

$1,000.00

217

10/15/2021

Lewis Ritter
8825 Perimeter Park Blvd Suite 104
Jacksonville, FL 32216

Individual

COO

Check

$1,000.00

218

10/15/2021

Michael Mesiano
1375 Ocean Boulevard
Atlantic Beach, FL 32233

Individual

Business Owner

Check

$1,000.00

219

10/15/2021

Natural Resource Investment Gr
8825 Perimeter Park Blvd Suite 104
Jacksonville, FL 32216

Business

Investments

Check

$1,000.00

220

10/29/2021

The Florentino Group, LLC
1301 Riverplace Boulevard Suite 1300
Jacksonville, FL 32207

Business

Government Affairs

Check

$1,000.00

221

10/29/2021

Martin Fiorentino, Jr
PO Box 3246
Ponte Vedra Beach, FL 32004

Individual

Consultant

Check

$1,000.00

222

10/29/2021

James Stephenson
330 Lee Industrial Blvd
Austell, GA 30168

Individual

Chairman

Check

$1,000.00

223

10/29/2021

Donna Stephenson
330 Lee Industrial Blvd
Austell, GA 30168

Individual

Homemaker

Check

$1,000.00

224

11/2/2021

Jennifer Dunton
PO Box 765
St Augustine, FL 32085

Individual

Asst StateAttorney

Check

$500.00

225

11/12/2021

Timothy Miller
10141 Leisure Lane S
Jacksonville, FL 32256

Individual

Attorney

Check

$1,000.00

226

11/15/2021

Spencer Hathaway
3057 Gibraltar Blvd
New Smyrna Beach, FL 32168

Individual

Prosecutor

Check

$250.00

227

11/18/2021

Richard Komando
***Protected Voter***

Individual

Attorney

Check

$1,000.00

228

11/3/2021

Kenneth Kaufman
727 Ponte Vedra Blvd
Ponte Vedra Beach, FL 32082

Individual

InsuranceBroker

Check

$500.00

229

11/8/2021

Michelle Knox
87 Ponte Vedra Blvd
Ponte Vedra Beach, FL 32082

Individual

Artist

Check

$1,000.00

230

11/8/2021

Robert B Baker
87 Ponte Vedra Blvd
Ponte Vedra Beach, FL 32082

Individual

President

Check

$1,000.00

231

9/26/2021

Dora Geise
548 Parkbluff Circle
Ponte Vedra, FL 32081

Individual

Marketing

Check

Delete

$-1,000.00

232

9/26/2021

Dora Geise
548 Parkbluff Circle
Ponte Vedra, FL 32081

Individual

Marketing

Check

Add

$100.00

233

9/26/2021

Maria C Beaver
***Protected Voter***

Individual

Caregiver

Check

Add

$250.00

234

12/20/2021

Thomas Pritchard
8184 Sabal Oak Way
Jacksonville, FL 32256

Individual

Retired

Check

$1,000.00

235

12/20/2021

Mary Pritchard
8184 Sabal Oak Way
Jacksonville, FL 32256

Individual

Homemaker

Check

$1,000.00

236

12/20/2021

Stephen R Parker
8143 Middle Fork Ln
Jacksonville, FL 32256

Individual

Retired

Check

$1,000.00

237

12/20/2021

Diane Parker
8143 Middle Fork Ln
Jacksonville, FL 32256

Individual

Retired

Check

$1,000.00

238

12/20/2021

Andrew J Ryan
8166 Middlefork Lane
Jacksonville, FL 32256

Individual

RetailSales

Check

$1,000.00

239

12/20/2021

Theresa H Ryan
8166 Middlefork Lane
Jacksonville, FL 32256

Individual

Homemaker

Check

$1,000.00

240

12/20/2021

Anne Darling
1119 Mar Del Plata St
Jacksonville, FL 32256

Individual

Retired

Check

$1,000.00

241

12/20/2021

James E Darling
1119 Mar Del Plata St
Jacksonville, FL 32256

Individual

RetailSales

Check

$1,000.00

242

12/26/2021

Paisley Boney
2610 Hyde Manor Dr
Atlanta, GA 30327

Individual

CommercialRealEstate

Check

$1,000.00
Campaign Treasurer's Report – In-Kind Contributions
| Seq# | Date | Contributor | Entity | Occupation | In-Kind Description | Amend | Amount |
| --- | --- | --- | --- | --- | --- | --- | --- |
Campaign Treasurer's Report – Itemized Expenditures
Seq#
Date
Vendor
Purpose
Exp. Type
Amend
Amount

1

9/30/2021

Anedot, Inc
5555 Hilton Ave, Ste 106
New Orleans, LA 70808

Processing Fees

Monetary

$1,491.90

2

10/31/2021

Anedot, Inc
5555 Hilton Ave, Suite 106
New Orleans, LA 70808

Bank Service Charges

Monetary

$222.50

3

11/30/2021

Anedot, Inc
5555 Hilton Ave, Ste 106
New Orleans, LA 70808

Bank Service Charges

Monetary

$111.20

4

12/31/2021

Anedot, Inc
5555 Hilton Ave, Ste 106
New Orleans, LA 70808

Bank Service Charges

Monetary

$40.30
Campaign Treasurer's Report – Fund Transfers
| Seq# | Date | Institution | Transfer Type | Nat |
| --- | --- | --- | --- | --- |