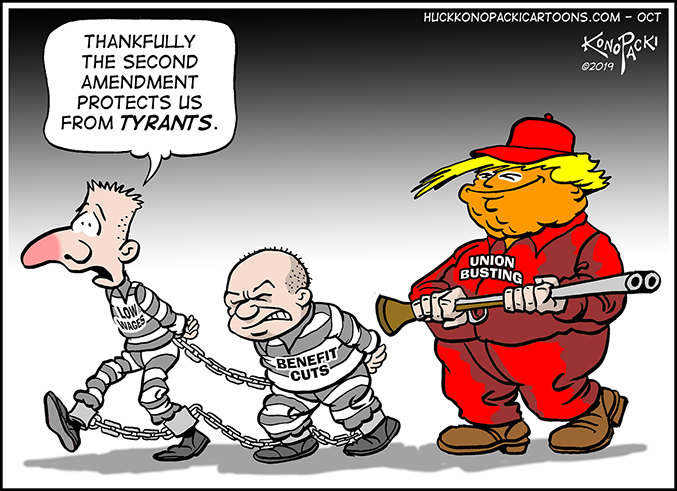 Thanks to reporter Noah Lanard, Mother Jones, Axios and The New York Times for reporting on the Heritage Foundation and indicted insurrectionist bully DONALD JOHN TRUMP's wish list for gutting worker rights if he were to find himself President again.
From Mother Jones: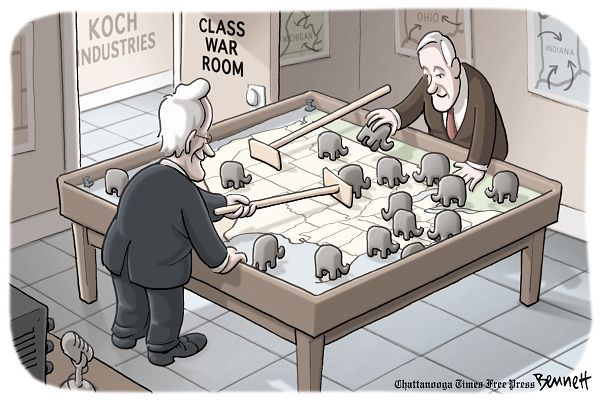 Trump Loyalists Lay Out Plan for Second Term: Gut Worker Protections
A newly released "battle plan" reveals the faux-populist labor agenda if Trump wins in 2024.
If Donald Trump wins the White House in 2024, loyalists have written a battle plan for how to change labor laws and regulations: make it harder for workers to form unions, make it easier for companies to classify employees as independent contractors, and ban the government from collecting race-based employment data in the name of stopping anti-discrimination lawsuits. These policies would be combined with a grab bag of culture war items—like a push for companies to close on the Sabbath—so that Republicans could portray themselves as a traditionalist, but still pro-worker alternative to Democrats.
The details come from Project 2025, a $22 million effort led by the Heritage Foundation to map out the first 180 days of a second Trump administration. The overarching goal is to dramatically increase executive authority so that Donald Trump and his allies can dismantle the so-called Deep State. As Jonathan Swan has reported for Axios and the New York Times, it is part of a broader effort to remove any independence that exists within parts of the executive branch by tradition or law.
After that's accomplished, the plan would be for a new crop of Trump bureaucrats to implement the policies outlined in the agenda released by Project 2025 earlier this year. "Project 2025 is not a white paper," Paul Dans, the group's director, told Politico last week. "We are not tinkering at the edges. We are writing a battle plan, and we are marshaling our forces."
At more than 900 pages, the plan covers every cabinet department and many other government bodies. It is not an official Trump campaign document, but former senior aides including Russell Vought and John McEntee (whom the Atlantic labeled "The Man Who Made January 6 Possible") are involved. The group's plans are the best available look at what a second Trump term would look like at the cabinet and agency levels.
The 37-page chapter on the Department of Labor and related agencies has received hardly any attention. It reveals just how little recent Republican posturing about becoming a pro-worker party is translating into policy, despite Sen. Marco Rubio (R-Fla.) and others aligning themselves with a New Right that occasionally says nice things about union drives. The Project 2025 labor agenda is the same-old union-busting, with a bit more anti-woke, pro-Christian rhetoric.
The labor section was written by Jonathan Berry, who led the Labor Department's regulatory office under Trump. During that time, he helped deny guaranteed overtime pay to millions of people and made it harder for workers to hold companies like McDonald's liable for actions taken by individual stores, allowing companies to hide behind the protections afforded to franchises. Berry is a fairly typical GOP insider: He attended the 2000 GOP convention as a page, served as the head of Columbia Law School Federalist Society (it was awardedchapter of the year under his leadership), and clerked for Supreme Court Justice Samuel Alito after a stint in corporate law.
Berry begins the Project 2025 chapter on labor righteously, noting that "Judeo-Christian tradition, stretching back to Genesis, has always recognized fruitful work as integral to human dignity." The enemy, in his telling, is a "massive administrative state" that is imposing a left-wing agenda that favors "human resources bureaucracies, climate-change activists, and union bosses" over ordinary workers. The Biden Labor Department and National Labor Relations Board, which are the most pro-union in decades, are portrayed as uniformly bad.
The first sections have little to do with labor policy as traditionally understood. Instead, they focus on how a Republican administration and Congress could block critical race theory, limit anti-discrimination lawsuits, and promote pro-life policies in the workplace. Another bucket theoretically focuses on protecting families. As part of that, Berry calls on Congress to pass the Working Families Flexibility Act, a Republican bill that labor advocates opposebecause it would let employers provide comp time instead of time-and-a-half overtime pay.
In a similar vein, the plan calls for reinstating a Trump-era rule that made it easier to classify people as independent contractors who lack many of the protections enjoyed by employees. Berry labels this plan, which the Economic Policy Institute estimated would cost workers more than $3 billion per year, a part of "Making Family-Sustaining Work Accessible."
It takes 19 pages for Berry to address the role of unions. The title of the first section, "Non-Union Worker Voice and Representation," gives the game away. The topline recommendation is to pass the Teamwork for Employees and Managers Act introduced by Sen. Marco Rubio (R-Fla.). The bill would significantly weaken a section of the National Labor Relations Act that bans company-controlled unions. In exchange, workers would get to be part of "employee involvement organizations" (whose recommendations companies would be free to ignore) and gain one non-voting seat on the boards of big companies. The TEAM Act is a rehash of a bill by the same name that President Bill Clinton vetoed nearly three decades ago following strong opposition from the labor movement.
At the same time, the plan would make it harder to form traditional unions. Project 2025 asks Congress to ban card check, the process by which a union can be established if a majority of employees sign cards in favor of unionization and an employer voluntarily recognizes the union. In 2016, the Obama Labor Department issued a rule that required employers and consultants to disclose anti-union activity. Trump's DOL repealed the rule; Project 2025 preemptively asks the DOL to re-repeal it if the Biden administration reinstates it.
When it comes to collective bargaining agreements, Berry asks Congress to amend the National Labor Relations Act so that federal laws and regulations can be set aside if both sides agree to do so as part of a compromise. As an example, Berry says workers could forgo some overtime pay in exchange for getting more predictable schedules. The hypothetical is revealing. It imagines employers agreeing to something they should already be doing—providing workers with reasonable notice for upcoming shifts—in exchange for getting out of a longstanding legal obligation.
Throughout, the plan is heavy on policing that flows in one direction. Berry calls for investigating worker centers, and increasing funding for the Labor office that monitors union finances, but cutting the department's overall budget. Project 2025 calls for the Occupational Health and Safety Administration to get no new power or funding.
One of the few policies that could reasonably be construed as pro-worker in the document would require mandatory overtime on Sunday, unless someone observed the Sabbath at a different time. As Berry has explained, the goal is not to increase pay for workers but to push more businesses to stay closed on the Christian day of rest.
Another asks Congress to eliminate the "BA box" on job postings that require applicants to have bachelor's degrees. That accomplishes two goals at once: It pokes at the college graduates who have increasingly abandoned the Republican party and trolls progressives who've pushed to "ban the box" asking about an applicant's criminal history. There's little reason to believe it would have much effect on who companies hire. (The movement to "ban the box" is a policy still debated among liberals.)
Like many of the proposals, the idea for the "BA box" came from American Compass, a conservative think tank for which Berry serves as an adviser. The group was founded by Oren Cass as part of an effort to reorient the Republican party away from libertarianism and toward a more communitarian conservatism. It was founded as part of Cass' evolution from being a management consultant at Bain & Company and a Mitt Romney campaign policy adviser to a proponentof a conservative labor movement. (In an author's note, Berry thanks Cass and Rachel Greszler, a Heritage Foundation senior fellow who has been a Republican witness at Senate hearings organized by Sen. Bernie Sanders (I-Vt.) on anti-union practices by Amazon and Starbucks.)
Cass' most important break with Republican labor orthodoxy has been to call for sectoral bargaining in the United States. That would allow workers to negotiate collective bargaining agreements that cover entire industries. There are many reasons to be skeptical of what sectoral bargaining would look like in the hands of Cass and his associates. Still, the idea at least has the potential to be a positive shift for workers. The Project 2025 agenda makes no mention of it.