What do you do with a drunken Florida Sheriff who slaps his girlfriend around?
Volusia County Sheriff's Deputies arrested him.
Disgraced former Putnam County Sheriff JEFFREY SCOTT HARDY is being represented by a public defender, Jason Blizzard.
In the case of
State of Florida v. JEFFREY SCOTT HARDY
, an arraignment set before Judge David H. Foxman on September 17, 2019 at 1:30 pm in the Daytona Beach Annex Courthouse, Courtroom 6, Division 81.
Footnote:
St. Johns County Sheriff DAVID SHOAR allegedly covered up Sheriff JEFFREY SCOTT HARDY's allegedly running amuck, drunk, wearing someone else's underwear at the Sawgrass Marriott annual Florida Sheriff's convention in 2014. FBI took testimony on the coverup. Nothing ever happened. Now, the FBI has entered into a questionable Memorandum of Understanding for up to $2 million for a training center and shooting range, which led to my request to the Government Accountrability Office, U.S. Department of Justice Inspector General and Florida Auditor General to investigate Sheriff SHOAR, who legally changed his name from "HOAR" in 1994.
From
Palatka Daily News:
(Action NewsJax 2017 DUI arrest photo)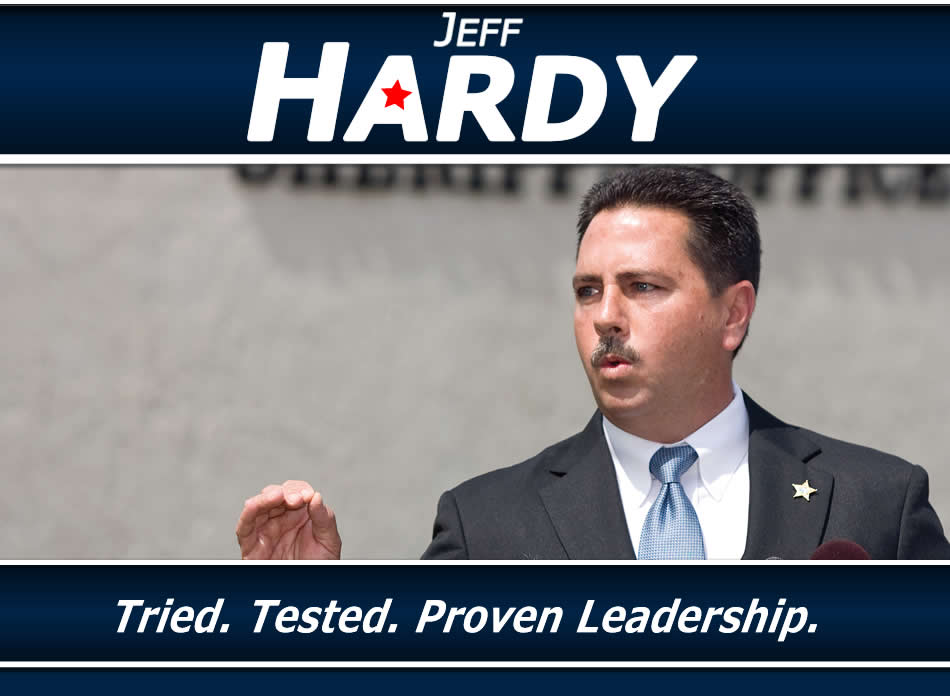 Booze present during former sheriff 's arrest
By Brandon D. Oliver
Palatka Daily News
boliver@palatkadailynews.com
Former Putnam County Sheriff Jeff Hardy was arrested after his girlfriend accused him of slapping
her across the face, saying she had to defend herself from him doing it again.
The Volusia County Sheriff 's Office made the arrest Aug. 25 in Ormond B e a c h a n d c h a r g e d
Hardy, 53, with misdemeanor simple battery.
The 52-year-old vicim, whose name and other information was redacted from the Volusia incident report, said she and Hardy had gone out to eat with friends, and on the way back, the two began to argue. Later, while the victim was in the garage,
Hardy approached her and open-hand slapped her across the left side of the face, she told authorities.
The report said a neighbor heard the argument, went to the house and got between
Hardy and his girlfriend to separate them.
The victim "said while the neighbor was standing there, Jeffrey exited the residence
attempting to strike (her) about the face again with an open hand," the incident report said.
"(The victim) said she defended herself by reaching up and grabbing his forearm to prevent
him from striking her again.
(She) did not realize whether or not she struck Jeffrey in the eye with her hand while she was
trying to defend herself."
Authorities said Hardy left the property, and when he returned, his girlfriend was
gone.
Hardy went to another neighbor's house and talked about his girlfriend "always beating him up," the second neighbor told authorities. When authorities finally reached Hardy, he did not initially provide a statement to the first Beach Patrol Officer on the scene, except to say his girlfriend "scratched him and h
wanted to pursue criminal charges," the report said.
When Volusia Deputy C. Sturrup spoke to Hardy, he changed his account of what happened three times, at one time saying his 50-pound dog scratched his eye.
"Jeffrey then asked the deputy to tell him what they thought occurred," the report said.
"Jeffrey continued to be uncooperative with law enforcement."
After Sturrup noticed the smell of alcohol, authorities said, Hardy said he had not
been drinking, contrary to what Sturrup noticed.
"Jeffrey stated he had not been drinking but was attempting to consume an alcoholic beverage
while Deputy Sturrup was trying to take his statement," the sheriff's office report said.
After deputies determined Hardy to be the primary aggressor – and made note of slight
redness on the victim's face and Hardy's eye as well as a large laceration on Hardy's arm – he was
placed under arrest, but not before tightening his grip on the frame of a golf cart on which he
was leaning, authorities said.
Last month's arrest was Hardy's second arrest in Volusia County since he ended his ten-
ure as Putnam County sheriff, which lasted from 2009 until 2017.
On July 24, 2017, Hardy was arrested for driving under the influence of alcohol, a first-de-
gree misdemeanor. According to the Volusia County Clerk of Courts Office, the charge was
later reduced to second-degree misdemeanor reckless driving.